Pastor's Fate Steals Rates Spotlight From Turkey Price Shock
(Bloomberg) -- The outcome of a Turkish court drama on Friday could make a decision on interest rates two weeks later a foregone conclusion.
A ruling by a court in Izmir to let American pastor Andrew Brunson walk free would go a long way toward defusing the worst diplomatic crisis in decades between the U.S. and its NATO ally. For the central bank, an acquittal could bring respite to the battered lira and reduce chances of another rate hike a month after the benchmark was hoisted to 24 percent.
By restoring the currency's shine, the cleric's freedom would allow the central bank to look past inflation almost five times its target of 5 percent, according to Rabobank. It's already delivered 11.25 percentage points of monetary tightening this year.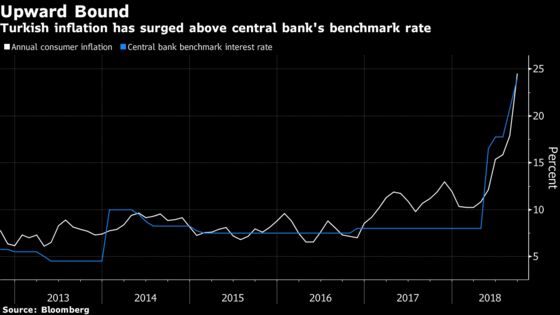 "If he is released, the Turkish lira is likely to rally, and this in turn would lessen pressure on the central bank to act," said Piotr Matys, a currency strategist at Rabobank. However, should Brunson's appeal be rejected "the central bank would have to seriously consider a large hike as the selling pressure on the lira is likely to intensify," he said.
The U.S. imposed sanctions over Brunson's detention, and the threat of further punishments hangs over the lira, which has already lost almost 40 percent of its value against the dollar this year. The Turkish currency was hit during a selloff in emerging-market assets triggered by higher U.S. rates and a stronger dollar. The Trump administration has also hinted at more severe penalties.
As expectations run high that Brunson will be released at Friday's hearing, President Recep Tayyip Erdogan said he can't interfere with the trial and pledged "to abide by whichever decision the judiciary makes," Hurriyet newspaper reported. Last week he accused the U.S. of using Brunson as a pretext to impose sanctions on Turkey, while leaving the door open for a reconciliation with Washington.
In September, an appeals court refused to release the pastor, who's been held for almost two years over what Turkey says was his role in a failed 2016 coup. Brunson denies any wrongdoing.
Analysts reading the tea leaves of monetary policy have long suspected the central bank of focusing more on currency than price stability, as required by its mandate.
That explains why the case for higher borrowing costs is still in question with inflation at a 15-year high. To raise its benchmark again this year, the central bank would also have to overcome Erdogan's distaste for high rates. In contrast to mainstream economic thinking, the country's all-powerful leader has argued that lower rates will curb consumer prices.
Credit Agricole SA strategist Guillaume Tresca had penciled in an increase of 175 basis points at the next rate meeting on Oct. 25. But Tresca says he's now having second thoughts because last month's spike in inflation was so much sharper than expected.
"My overall view is that the central bank has hardly changed its stance and strategy," Tresca said. "It only reacts to the FX levels."
Turkish officials have long insisted that consumer prices rise by a fifth of the depreciation in the lira's value. But the pace at which inflation has jumped in recent months suggests the pass-through is more potent.
Following the release of September data, the central bank said even the cost of goods and services of solely domestic origin was rising, a sign retailers are changing the way they price products.
What Our Economists Say...

"The unexpected surge in prices will require policy to adjust to take the inflation surprise into account. Brunson's trial is relevant of course, but it'll probably take an aggressive rally in the lira on the back of the trial to completely offset the inflationary shock."

-- Ziad Daoud, Bloomberg Economics 
The central bank may eventually cut rates next year in the face of weaker domestic demand and a looming economic slowdown, said Juri Kren, senior economist at Continuum Economics in London. But the Brunson saga could signal another round of tightening in the meantime.
"A lot will depend on the global risk environment and relations with the U.S., including developments with pastor Andrew Brunson," Kren said. "If he does not get released this week, the lira might depreciate markedly, raising the probability of further monetary tightening."