Parking Lot in the Pacific Persists as Imports Jam U.S. Ports
Ship congestion outside the busiest U.S. gateway for trade with Asia persisted over the past week amid a steady flow of imports at some of the highest ocean freight rates on record.
A total of 19 container ships were anchored waiting for entry into Los Angeles and Long Beach, California, as of Monday, compared with 22 a week earlier, according to officials who monitor marine traffic in San Pedro Bay.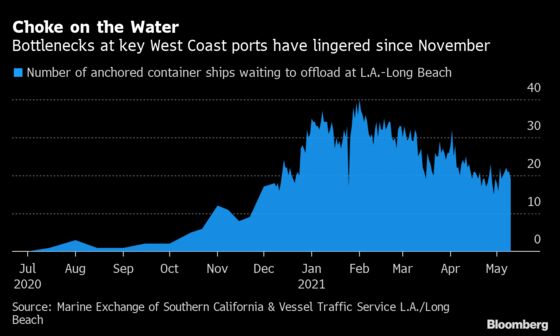 Another 15 container carriers are scheduled to arrive over the next three days, with 11 of those expected to drop anchor and join the queue.
The average wait for berth space was 6.6 days, more than a day quicker than the delay in March, according to the L.A. port.
Fewer arriving ships are going straight to "the parking lot," L.A. port chief Gene Seroka told harbor commissioners at a public meeting last week. In April 65% of arriving vessels went straight to the anchor queue, down from 90% in February, he said.
Still, bottlenecks on land remain. Containers remained in terminal areas for an average of 3.9 days in April, little changed from the dwell time in March, he added. The wait for containers bound for railroads was 7.5 days last month, down from 11 days in March.
The cost to ship a container of goods from Asia to the U.S., which had plateaued near record highs in the first quarter, is rising again, according to Drewry World Container Index data.