Pakistan Rupee Jumps Most in a Decade on Reports of Chinese Loan
(Bloomberg) -- Pakistan's rupee jumped the most in a nearly a decade after reports that China had lent the nation $2 billion to shore up its depleting foreign-exchange reserves.
The currency rose 3 percent to close at 124 per dollar in Karachi, the most since October 2008, according to data compiled by Bloomberg, paring a downward trend this year after the rupee was devalued four times since December. The Karachi-based Express Tribune newspaper reported over the weekend that Beijing authorized the loan, while the Islamic Development Bank activated a three-year $4.5 billion oil-financing facility, citing unnamed finance ministry officials. A spokesman didn't respond to calls or messages seeking comment.
"Recent news flow regarding loan from China of $2 billion and possible assistance from Saudi Arabia is helping FX market sentiments, we believe," Mohammed Sohail, chief executive officer of Karachi-based brokerage Topline Securities Ltd., said in a report on Monday.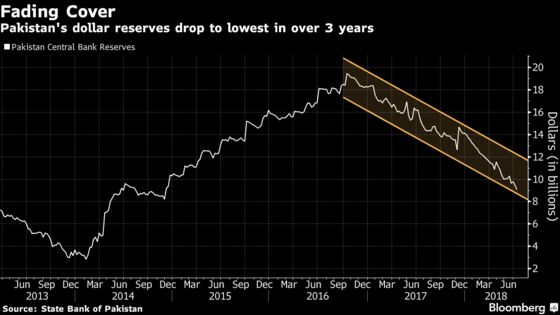 Pushing to form a coalition government since winning the most seats during last week's election, former cricket star Imran Khan will have to soon focus on addressing Pakistan's rapidly deteriorating finances and many investors and analysts expect a bailout from China or the International Monetary Fund is inevitable. The central bank has raised interest rates, the current-account gap has widened by 43 percent in the last fiscal year and foreign-exchange reserves are dropping.
Arif Alvi, a senior leader in Khan's party, told Bloomberg News on Monday that they haven't approached the IMF and "all options are on the table."