Our Robot Overlords Couldn't Handle a Trade Spat
(Bloomberg Opinion) -- Every hot investment theme can go cold eventually. Just look at the rise of the robots – a trend sold as a technological disruption so inevitable that investors needed to future-proof their portfolio. It turns out that the unpredictable behavior of humans can still play havoc with machine dreams.
After a bumper few years, the two big robotics ETFs, ROBO and BOTZ, are down 16 percent and 22 percent respectively so far this year, worse than the 1 and 6 percent contractions of the S&P 500 and MSCI World Indexes. The products' combined assets are down from about $4 billion at the end of June to about $3.1 billion. The picture is better if you go further back – the ETFs have outperformed the benchmark indexes by 5 to 10 percentage points since the end of 2016 – but not by much.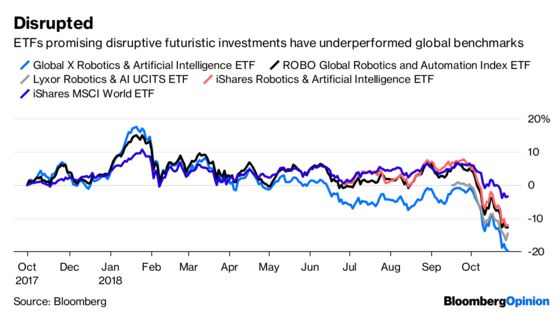 It seems pesky humans are getting in the way of factories buying the latest robot gear, especially in China, as my Bloomberg Opinion colleague Anjani Trivedi has noted. President Donald Trump's tariff spat, as well as a more sluggish growth in China, has prompted makers of automobiles and chips to cut their spending. Other drivers of spending on robotics, from smartphones to cryptocurrency mining, are also cooling. The robots are finding work at a slower pace.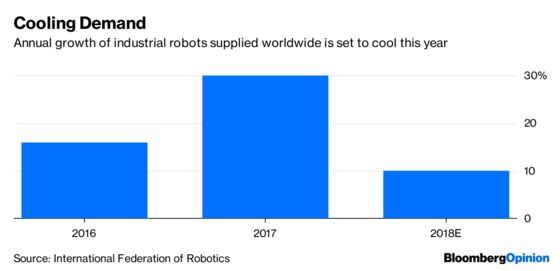 This has pulled the rug out from under robotics companies' frothy valuations, which are themselves propped up by the mechanical passive buying of tech-minded ETFs. Fanuc Corp. and Kuka AG, the No. 1 and No. 3 robot manufacturers globally, have seen their trailing price-to-earnings ratios slide from 33 and 85 respectively to 19 and 24 in the space of a year. They cut their annual revenue targets after mixed quarterly results, and their shares have slumped after years of crowded ETF buying.
No doubt cheerleaders will say that this is just a temporary blip and that the long-term automation thesis remains intact. The main robot ETFs are still up 26 to 46 percent since 2015. There are also some non-industrial stocks that have outperformed over the past year, such as iRobot Corp., maker of self-guiding vacuum cleaners, or specialist Intuitive Surgical Inc. And as unpredictable as Trump is, he's still dangling a "great deal" with China.
But robots are turning out to be an almost perfect case study of the short-term factors that can derail a long-term "mega-trend" story. Morgan Stanley analysts reckon demand from factory automation will continue to come under pressure. Fanuc's revenue is set to keep shrinking for at least the next few quarters, according to Bloomberg data. This isn't the dream investors signed up for.
Perhaps it's time to shift into more obvious names like Apple Inc., or Facebook Inc.? That's what the newest robotics funds are doing. Maybe human stock-pickers can learn something from passive ETFs after all.
This column does not necessarily reflect the opinion of the editorial board or Bloomberg LP and its owners.
Lionel Laurent is a Bloomberg Opinion columnist covering finance and markets. He previously worked at Reuters and Forbes.