OPEC's Task Gets More Complicated as Trump Takes on Venezuela
(Bloomberg) -- As if OPEC's task of balancing world oil supplies wasn't complicated enough, the cartel now faces a political crisis in one of its founding members that could tip the market in either direction.
President Donald Trump's recognition of the Latin American country's opposition as its real government, along with the threat of sanctions on oil exports and even military intervention, has dealt a serious blow against the regime of Venezuelan President Nicolas Maduro.
For his counterparts in the Organization of Petroleum Exporting Countries, it's a crisis that will be hard to predict and even tougher to manage.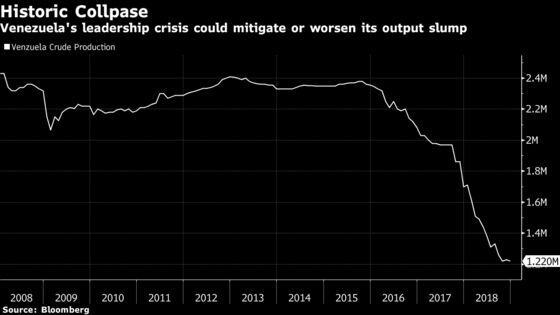 Steered by Saudi Arabia, OPEC and its allies are cutting production to contain a global oil surplus and bolster crude prices. The last time the group attempted this, much of its success was down to Venezuela, where output collapsed as the country plunged into an economic slump.
A full-blown leadership crisis there could once again help achieve OPEC's goals -- or wreak the kind of havoc on global markets that comes to haunt the organization.
"The crisis in Venezuela appears to be reaching a crescendo" with significant consequences for the oil market in both the short and long term, said Helima Croft, chief commodities strategist at RBC Capital Markets LLC in New York.
The most pressing question for the oil market is whether America will seek to amplify the pressure on Maduro by imposing sanctions. So far that remains unclear. The Trump administration has drafted a slate of potential restrictions on Venezuelan crude exports but hasn't decided whether to deploy them, according to people familiar with the matter.
If the U.S. simply chose to prohibit its own imports, that could simply mean Venezuelan exports are re-directed to China and India. Wider sanctions -- such as those already aimed at buyers of Iranian oil -- could tip the market into deficit and leave it lopsided in other crucial ways.
Venezuelan output, like much of the crude pumped by OPEC, is heavier and contains more sulfur than grades produced elsewhere. That variety has already been crimped by OPEC cuts and further restrictions would exacerbate the tightness, amplifying the excess of lighter, lower-sulfur oil already created by the shale boom in the U.S.
Prices for these grades are already strengthening. That's bad news for refiners on the U.S. Gulf Coast, but good news for Saudi Arabia, Iraq and other heavy-crude producers.
Any such financial gain might be tempered by OPEC's unease at America's readiness to target members with sanctions.
"If such a situation comes to pass, the Trump administration will be simultaneously restricting oil exports of two major OPEC producers," said RBC's Croft.
The U.S. is already waging a diplomatic and economic battle against Iran, another founding OPEC member. It became subject to U.S. sanctions again in November after Trump quit a nuclear accord with the Islamic Republic.
He must decide by May whether to extend temporary sanctions exemptions granted to some buyers, weighing the political objectives of pressuring the two countries against the economic risk of sending oil prices higher. That decision will hang over OPEC's next ministerial meeting in April.
Then there are logistical matters. Venezuela holds OPEC's rotating annual presidency this year -- a ceremonial but still high-profile office -- and is said to have suggested that the group holds one of its meetings in Caracas later this year.
The emergence of a shadow government creates the possibility of a parallel OPEC president who would challenge Oil Minister Manuel Quevedo's right to recognition by OPEC's Vienna-based secretariat.
"Developments in Venezuela take on an even greater importance for the oil market considering that the country holds the rotating presidency of OPEC this year," said Harry Tchilinguirian, head of commodity markets strategy at BNP Paribas SA in London.
If a new government comes to power, it could change Venezuela's oil industry for the better. A new leader could repair relations with international companies that fled under former President Hugo Chavez, and set about reviving oil production.
There's a big opportunity to expand output with some outside help and investment. Venezuelan output has collapsed by 50 percent in the past five years to about 1.2 million barrels a day, according to Bloomberg data.
Such rehabilitation could frustrate Saudi Arabia's desire to keep world markets in equilibrium by adding more supply just as a weaker economy looks to curb demand growth.
"To normalize the country's oil output will take months and years, but the first signs of irreversible political changes in Venezuela will make any oil bull extremely cautious and concerned," said Tamas Varga, an analyst at PVM Oil Associates Ltd. in London.
However, any transfer of power might equally trigger a period of even deeper political instability, or a even prolonged conflict for control of the nation. That could result in a severe disruption to the country's output, already at the lowest in decades.
The "road back for Venezuela will be extremely arduous given the depths of the economic and humanitarian disaster," RBC's Croft predicted.
Therein lies the problem for OPEC and its allies. Right now, it's anyone's guess whether the situation in Venezuela will offer the cartel a helping hand by mildly curbing supply, make its job even harder by adding more crude to the market, or upend its plans altogether and force a reversal of its cuts to prevent an oil-price spike.