Macron Returns to UN With Ambitions Curtailed
(Bloomberg) -- A year ago, Emmanuel Macron stormed into New York as a triumphant poster child for globalization, exhorting members of the United Nations to revive multilateralism and roll back the forces of nationalism.
The French president returns to the UN General Assembly this week much diminished, with more modest ambitions for saving what's left of the global order.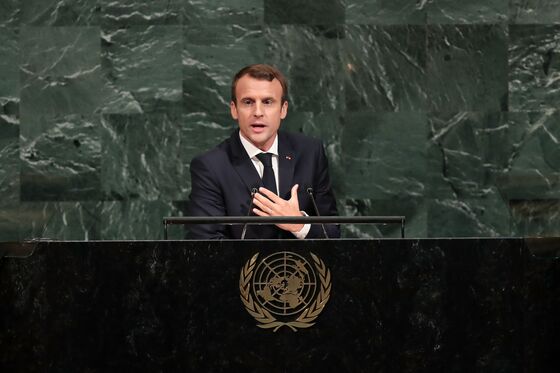 In the 12 months since he used the UN pedestal to urge countries to work together to confront the world's problems and "create history," he's seen his popularity tumble, his European allies disappoint and nurtured an unlikely friendship with Donald Trump that failed to stop the U.S. president from ripping up international accords to Europe's detriment.
"He no longer has the wind behind him," said Martin Quencez, senior program officer at the German Marshall Fund of the U.S. in Paris. "He'll repeat the usual Macron mantras about Iran, free trade and climate, but without the idea of transformation and hope from a year ago."
Macron is due to have a one-on-one meeting with Trump on Monday evening, then address the General Assembly on Tuesday. He'll meet with Iranian President Hassan Rouhani the same day. French officials say he'll ask Rouhani to stick with the Iranian nuclear accord and will re-iterate to Trump why he thinks it was a mistake for the Americans to pull out, but without making new proposals to bridge the divide.
The key issues for the French at the UN meeting are security, education, development and climate; government officials wouldn't give any details of Macron's speech late last week, saying he was still writing it. Yet the president's recent address to French ambassadors provides clues to his scaled-back ambitions in the sphere of European and foreign policy.
In an almost lyrical address to last year's annual gathering of France's overseas envoys, Macron spoke about "transforming" Europe, and said he'd present solutions for ending the war in Syria and establishing a Palestinian state. This year he focused on the need for the EU to bolster its independent military and financial structures in response to Trump's isolationism.
"Then there was a vision," said Quencez. "Now it's about saving what we have."
For Macron, now 40, creating a stronger and more closely-knit EU was always integral to his foreign policy, because he believes France can only play a major role in the world with a united Europe at its back. But European integration hit a roadblock as German Chancellor Angela Merkel failed to endorse Macron's proposals after staggering to a fourth term at the head of a quarrelsome coalition, while EU-skeptics took power in Italy in June questioning even the bloc's existing remit.
In France meanwhile, Macron has pressed ahead with unpopular labor-market reforms he acknowledges will take time to yield results. His approval ratings have plummeted anyway because of a series of missteps and comments that led many French to see him as haughty and out-of-touch.
"He pinned his hopes on a European vision which has been diminished by the fragility of Merkel's coalition and the Italian elections," said Nicholas Dungan, senior fellow at the Atlantic Council and a professor at Paris-based institute Sciences Po.
Relations with Trump have also taken a turn for the worse. Macron used a successful Trump visit to Paris for Bastille Day and active French involvement in military missions in Africa and the Middle East to establish himself as Trump's go-to guy in Europe. That didn't stop Trump from quitting the Paris climate and Iran accords, imposing tariffs on EU metals or moving the U.S. embassy to Jerusalem, shrugging off Macron's arguments to the contrary.
"Things haven't gone great," said Dungan.