One Ordinary Day in Global Trade
(Bloomberg Markets) -- Viewed from a desk on Wall Street, trade can look like an inaccessible agglomeration of breathless headlines about escalating economic wars and sterile data. Yet up close, the buying and selling of goods and services is an astonishing organism: Here, geopolitical decisions and the markets' responses to them have daily physical consequences.
To capture an ordinary day during this extraordinary period in the history of the global economy, Bloomberg Markets deployed reporters across the world to see the inner workings of trade up close. From storefronts in Seoul and Tokyo to border crossings in Africa and the Middle East, Wednesday, Dec. 4, was ostensibly a day like any other. What the reporters saw were the nuts and bolts of a global economy that—whether because of the march of technology or the consequences of rising protectionism and shifting trade patterns—is confronting an inevitable and possibly irreversible wave of change. —Shawn Donnan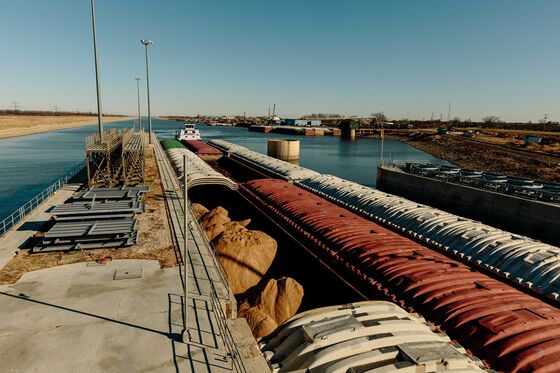 Lock 27, Mississippi River
It's 10:36 a.m., and under a bright blue sky, the tugboat Donna Rushing is nudging a 15-barge load into the busiest lock on the Mississippi River. The St. Louis-based tug and her twin diesels are pushing a motley haul of soybeans, steel slag, and benzene. The linked convoy is 1,140 feet long and 105 feet wide, or the equivalent of a quarter-mile stretch of interstate that spans nine lanes and holds 870 truckloads of cargo. The lock, in Granite City, Ill., is just 5 feet wider than the barges. Delicate stuff.
Observing this from Lock 27's control room is Quentin Pearson, a 61-year-old U.S. Navy veteran. Darting back and forth, he reaches for his radio to give instructions to a pair of tugs waiting to go north after the Donna Rushing's load, heading south, is safely through. Then he rushes back over to the computers that control the lock's valves and gates. From there, he'll lower the water level by 7 feet, sending the Donna Rushing on its way to St. Louis.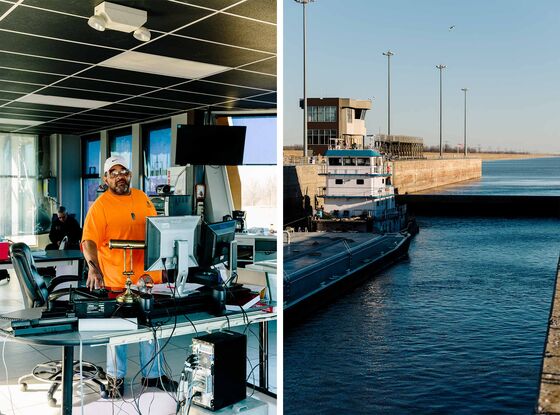 Once the tug and its convoy are safely in the lock's main basin, the captain's voice comes across on Pearson's radio: "We're tied off." With a click of Pearson's mouse, valves open, and water rushes out of the lock's chamber. By 10:58 a.m., the downstream gates have opened, and the Donna Rushing and her load are creeping out of the lock. This 22-minute sequence will be repeated more than two dozen times today at Lock 27, through which more than 65 million tons of cargo pass each year.
"Roads and railroads are the veins of America. But the rivers are the arteries, still, of America," says Jermey Garzia, Lock 27's lockmaster. A single barge carries 1,500 tons, or the equivalent of 58 tractor-trailers. A 15-barge tow like the one the Donna Rushing is shepherding carries the equivalent of two 100-car trains. —S.D.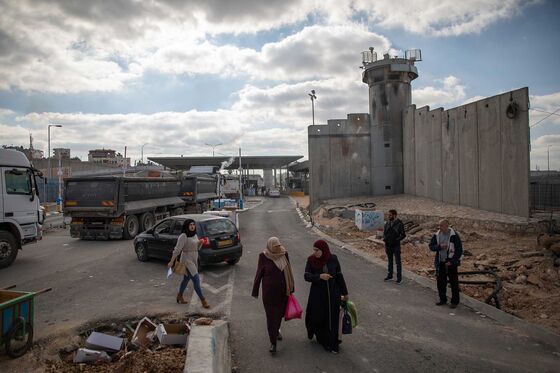 Qalandia Crossing, West Bank
Wearing a red polo shirt and blue jeans, Mohammed Salahat approaches the low-slung building by the village of Qalandia that serves as a checkpoint between the West Bank and northern Jerusalem. He's a Palestinian builder heading out for work. Standing between him and the job site is this crossing. He'll walk through a chute-like passageway, pass a security screening, and stare into a facial scanner before emerging on the other side.
It's not quite the ordeal it used to be. The biometric-identification step is new, and it's transformed his daily routine. Before it came along, Salahat would set out for work at around 3:30 a.m. Now he doesn't have to leave until 5:30 a.m. "Before, I used to wait for a long time, and people were late for work," he says.
Checkpoints between the West Bank and Israel are a fact of life for tens of thousands of Palestinians. They were put in place to control the passage of 3 million Palestinians between Israel and the West Bank territory it took in the 1967 Middle East war.
The scanners may speed things up, but their surveillance capabilities are controversial. They could be used "to target some people," says Issam Aruri, director of the Jerusalem Legal Aid and Human Rights Center, a Palestinian research and advocacy organization. "It is one of our serious concerns."
That concern has spread beyond the Middle East. Microsoft Corp.'s venture capital fund is an investor in an Israeli computer-vision and facial-recognition startup whose technology is used at checkpoints. After news reports said the company, AnyVision Interactive Technologies Ltd., was engaged in mass surveillance of Palestinians beyond the checkpoints, Microsoft announced an audit into AnyVision's compliance with its ethical principles on the use of facial recognition. AnyVision says its technology is used for identification and security at crossings, not for surveillance.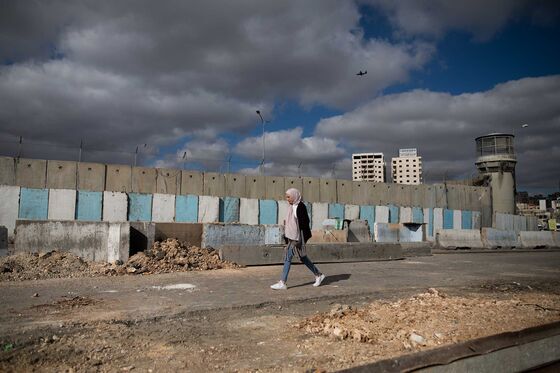 The scanners are part of Israel's more than 300 million-shekel ($87 million) investment in the past few years to upgrade crossings. "Nobody is interested in friction," says former Israeli Deputy National Security Adviser Chuck Freilich. "Those who have permits, Israel wants to be able to come across."
What's happening in Qalandia each day highlights a larger dilemma that's not just playing out in areas torn apart by conflict. At the heart of the U.S.'s crackdown on China's Huawei Technologies Co. is a question about the ultimate use of technological advancements: Is it making us safer and improving lives, or is it introducing threats to privacy and national security?
"All of it is not right," says stone dealer Muhanad Shahin during a midday commute. "If they want to scan our faces, or hands, or body, what can we do? People that want to work inside, they have to go through that." —Ivan Levingston and Fadwa Hodali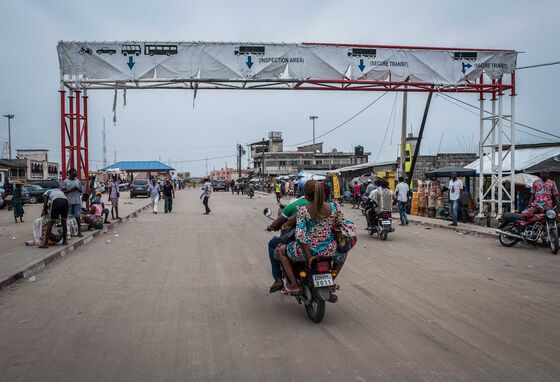 ​​​​​​At Seme, an outpost on the Nigerian side of the border with Benin, the damage from years of protectionist trade policies is proving hard to repair. Nigerian President Muhammadu Buhari closed the border here in August to stanch the flood of frozen chicken and other goods that he says have undermined efforts to wean Africa's largest economy off oil and make it self-sufficient in food production.
The sudden ban on trade across the 800-kilometer frontier between the two West African nations has brought one of the continent's busiest border posts close to a standstill, upending the lives of thousands who survive on legal and illegal commerce. Felicia Josephine, 30, who sells tomatoes, had to pull her two children out of school after fewer and fewer shoppers came to her street stand, depriving her of the money she needed for the kids' education. "We just sit and wait for the border to open up again," she says.
In the past, the border post was usually swarming with people buying and selling goods ranging from bootleg Gucci bags to bags of rice. "Seme was the place to make money," says Stanley Orajekwe, 36, standing outside his pharmacy along a mostly empty dirt street. "Whatever you peddled here, you sold."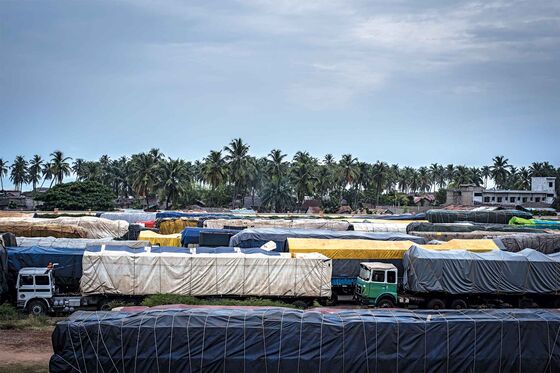 That included contraband. Years of import restrictions have made such goods­—from vegetables to cars—a booming business. Smuggling accounts for almost a third of Nigeria's formal food-related imports, according to Lagos-based investment bank Chapel Hill Denham. Seme is a small place, dotted with rickety dwellings, but it's only 50 miles from Lagos, a metropolis of roughly 20 million people.
The border closure, which the government may end in early 2020, has curbed contraband to some extent. In the meantime, Nigerian businesses have been forced to reroute exports to congested seaports, where trucks can lay idle for days, increasing costs and constricting trade. That's not good news for the country's consumers, more than half of whom live in poverty: They have to pay more for food after inflation rose 11.9% in November, the highest since April 2018. —Alonso Soto and Virgile Ahissou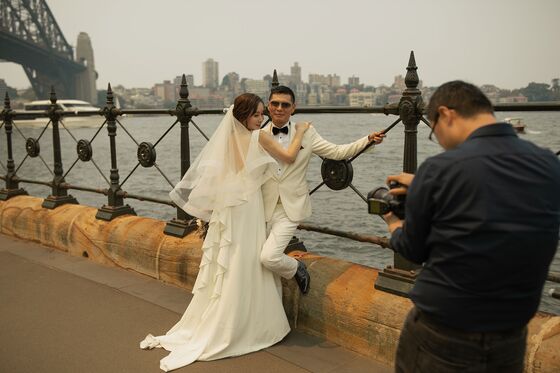 A Chinese Wedding, Sydney
Lu Fang and her husband-to-be, Chenglin Liu, are posing for pre­wedding photos in the shadow of Sydney's iconic Opera House. Why here and not in their native China? "It's laid-back, it's peaceful," Fang says. "We have a wish that this will be like our marriage—calm and nice."
For decades, trade between Australia and China has been dominated by a less-than-romantic resource: iron ore dug from the dusty red Outback and smelted into steel for skyscrapers in Shanghai, Shenzhen, and beyond. Mining towns across the northern reaches of Australia surfed booms and busts. Even as China's growth slowed in recent years, the trading relationship has been a mostly happy one. It powered prosperity in Australia and, in China, a rush to urbanization unlike any other in history.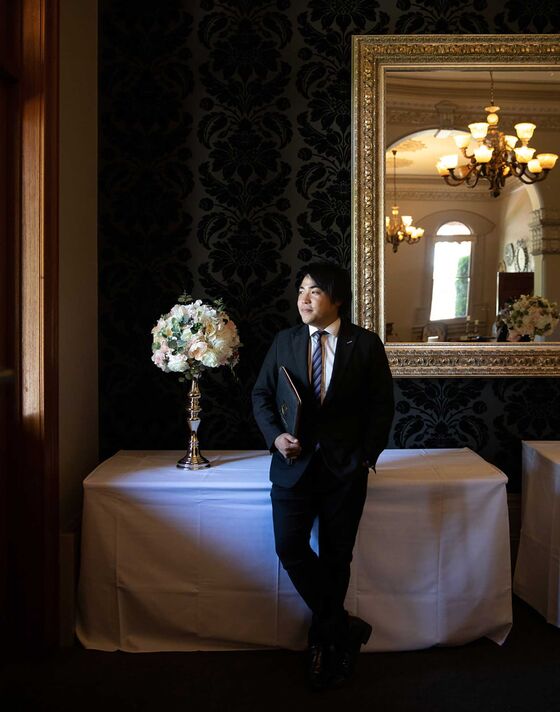 Now the relationship is maturing. Chinese consumers, including an increasingly wealthy middle class estimated at 400 million people, are increasingly taking their spending power abroad. Australian services exports to China—from wedding planning to university education—have surged 18% a year in the past half-decade, to $12.7 billion for the 12 months through June 2019, almost double those to the U.S. Tourists from China spent an estimated $8.2 billion in Australia during that period.
Event planner Sy Chung, who's Australian, is one of the beneficiaries of the new money flowing into his country. Over the past year, Chung says, he's helped a dozen or so couples based overseas get married in Australia. He offers venues that cater to starkly different tastes and budgets—from Curzon Hall, a castle set in elaborate gardens, to the Starship, a glass-enclosed vessel in Darling Harbor. Chung says one client, a Chinese developer, spent hundreds of thousands of dollars for a celebration aboard the Starship that featured gold-coin bonbonnieres and a nine-tier wedding cake for guests he flew into Sydney in first class.
For Fang and Liu, love isn't the only thing in the air today. Wildfires raging on the outskirts of this normally sun-drenched city have filled the skies with a thick, acrid haze. It reminds the couple of, well, home. "We come from Beijing," Fang says. "By comparison, it's OK." —Thuy Ong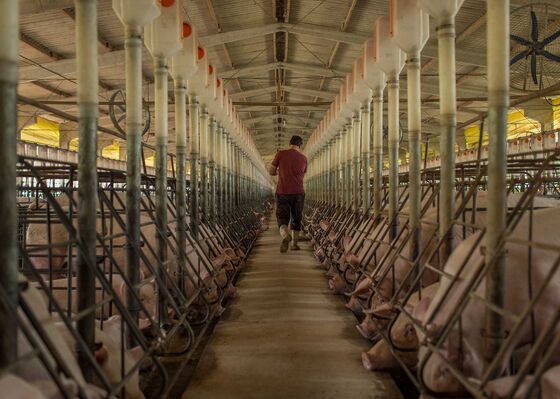 On an 80-hectare (198-acre) farm in the southern state of Santa Catarina, Mario Fries raises hogs. He started out in 1998 with a small breeding herd of a dozen sows. Now he has 1,500 females that deliver 800 piglets per week. Trade wars or not, human diets are changing in places such as China. Last year was very good to Fries. "It was the best year ever," he says.
Fries can't be sure of what's going to happen in coming years. His healthier profits in 2019 stemmed largely from a disease that ravaged China's hog herd, the world's largest. "The Chinese are very smart and fast," he says. "We need to be careful about raising production, because they could recover their own production and we'll be left oversupplied."
So Fries keeps to his daily routine: feeding and vaccinating the animals, inseminating the sows, supervising the births, and watching over an additional 100-hectare farm where he grows soybeans and corn. He sells off the piglets at four weeks old.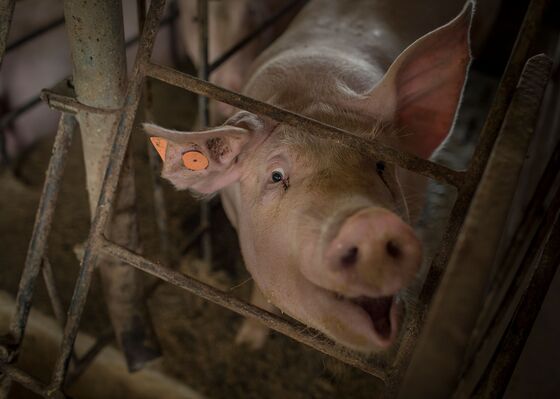 Ultimately, Fries's production is determined by the Cooperativa Central Aurora Alimentos, Brazil's third-largest meat producer. The cooperative's pork plant in nearby Chapeco, which slaughters the pigs raised by Fries, doubled its capacity last year to 10,000 animals a day. Aurora President Mário Lanznaster says he expects the co-op's 30,000 employees to get a 2019 bonus equal to two months' salary, the largest ever. "China's hazard was our fortune," he says. —Tatiana Freitas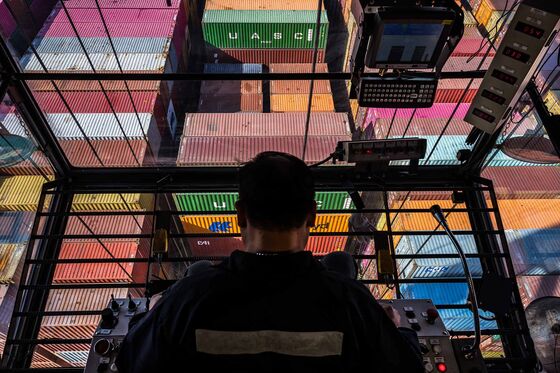 Visitors to Hong Kong's port might need a reminder that they're standing in the no man's land of the U.S.-China trade war. As hundreds of staff pour in for their morning shift, trucks and cranes creak and bang, while ships are loaded and unloaded. Containers are stacked several stories high, like giant Lego bricks, bearing the names of the world's big shipping companies.
With few obvious signs of a trade war quayside, the impact of the U.S.-China dispute is more apparent inside executive offices, where hushed tones and carpeting muffle the noisy backdrop. Peter Levesque, a group managing director of Modern Terminals Ltd., which owns and operates container facilities, says volumes at the port, the world's seventh largest, are down.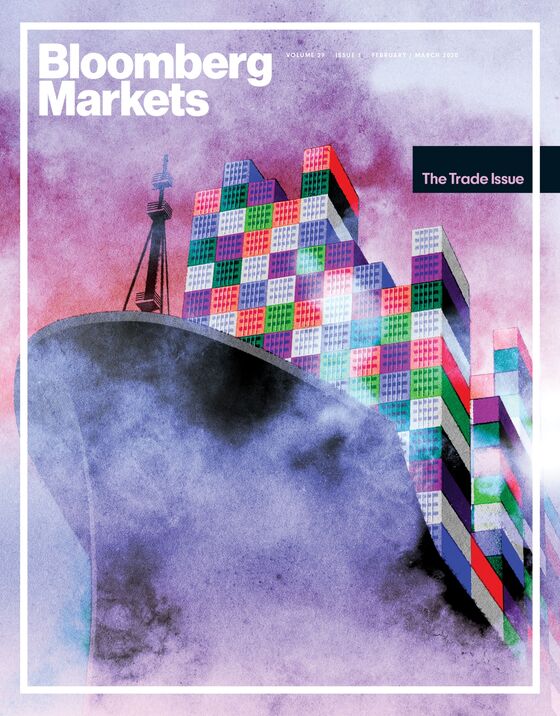 Not all of the decline reflects the barrage of higher tariffs; stiffer rivalry from Chinese and regional competitors also plays a part. But the trade war is leaving a visible mark, Levesque says. "The guys in the cranes can see for themselves whether there is a ship underneath or not," he says. "The fewer ships, they certainly talk about that. They know what the state of the market is."
For now, Levesque says, the workers on the ground—the port employs about 6,000 people—appear to be broadly shielded from these developments. That's important, because the livelihoods of 180,000 Hong Kongers depend indirectly on the port economy. As it is, trade tensions, China's economic slowdown, and the political strife that's engulfed the former colony have taken a toll, with the Hong Kong economy falling into recession in 2019.
Tweets pertaining to tariffs from Trump's phone have continued to fan uncertainty. For executives such as Levesque—who's returning to the U.S. after living in Asia for more than 25 years to become president of Ports America Group Inc., the largest marine terminal operator and stevedore in North America—time for longer-term strategic planning now competes with efforts to decipher those tweets and lobby U.S. lawmakers.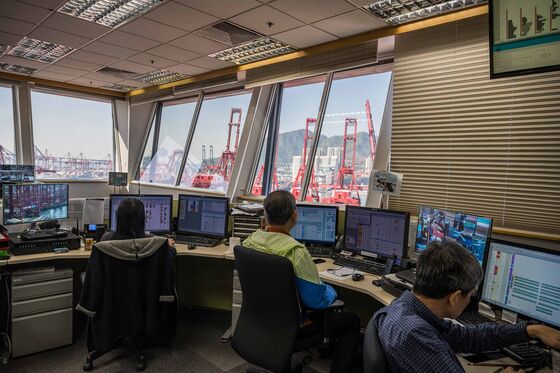 Meanwhile, the rhythmic hum of global commerce dominates the harbor. At one of the berths is the Czech, a hulking 984-foot-long container vessel, whose ultimate destination is Uruguay. Perched in a cockpit 40 meters off the ground, a crane operator hunches over a see-through panel in the floor, maneuvering containers onto and off the ship. From a nerve center that overlooks the port, another operator monitors the activity through computer screens and closed-circuit television. The Czech, which docked shortly after midnight, will be ocean-bound again within 12 hours, rejoining the endless loop of world trade. —Enda Curran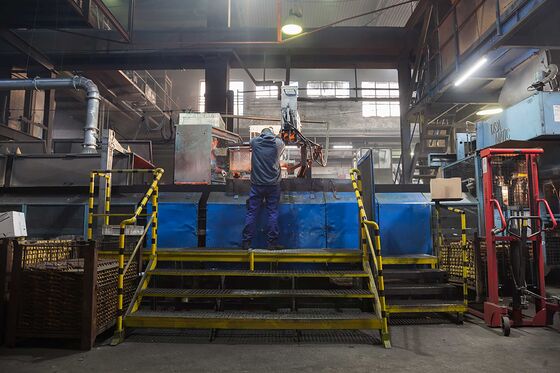 Motor Jikov, Czech Republic
By 9 a.m., production at Motor Jikov AS is running at full speed. Inside the Czech car-parts maker's dark and dusty foundry, one worker oversees the pouring of molten iron into a mold. Nearby, in a space that looks more like a hospital operating theater than part of a factory, technicians are building a robotic assembly line that will turn out electric-engine components for BMW cars. By the company canteen, a forklift operator is getting ready for the early shift's lunch break.
With 800 employees and 1.8 billion koruna ($79 million) in annual sales, Motor Jikov is one of more than a hundred auto-parts companies scattered across this Central European country. Together with factories owned by the likes of Volkswagen AG and Hyundai Motor Co., they form the backbone of the Czech economy and are often a weather vane of global trade.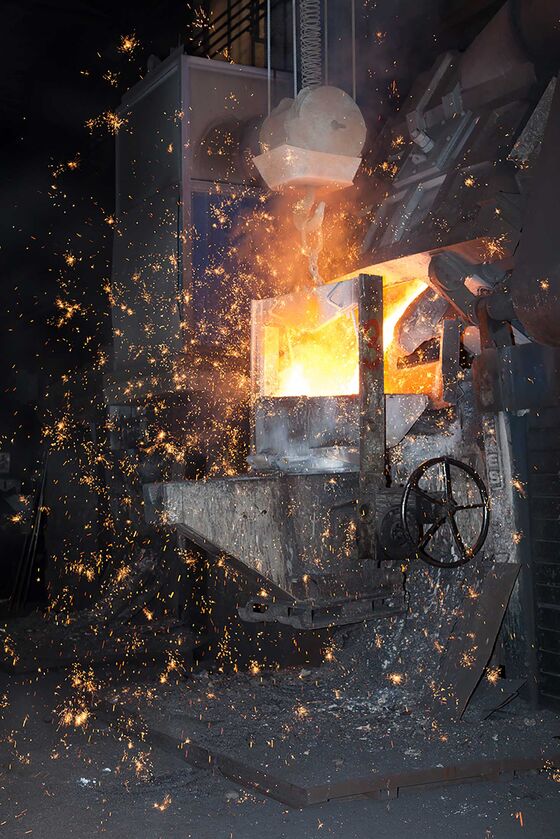 The watchword here: caution. "We haven't seen any slowdown in orders yet," says Miroslav Dvorak, Motor Jikov's general manager and co-owner. "But we always have to be prepared, as it can hit us immediately and without warning. We have orders for a month—and then everything can change."
Some changes are unpredictable, such as the U.S. threat of tariffs on auto imports or the U.K.'s exit from the European Union. Others you can see coming, such as the industrywide shift from combustion to electric engines. But that doesn't make them easier to deal with.
The EU's push to curb greenhouse gas emissions will ultimately force Motor Jikov to replace about half of its current output with greener products. That, Dvorak says, is why he's been signing off on investments of as much as 150 million koruna a year for robotic assembly lines and other equipment to make more sophisticated parts used in electric cars. And it's still not clear whether such upgrades will be enough to keep up with the pace of change.
Even so, employees at Dvorak's factory, located near the Czech border with Austria and Germany, don't sound too worried. Miloslav Hart, a technician setting up the new robotic assembly line, has been with the company for more than a decade. Like Dvorak, he says he'll manage. "I'm sure we'll adjust to whatever is coming," he says. —Lenka Ponikelska and James M. Gomez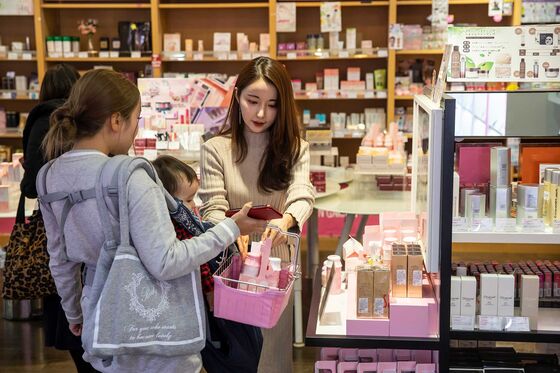 Shoppers in Seoul and Tokyo
The late-morning sun gleams off the glass facade of Uniqlo's flagship store in Seoul's Myeongdong shopping district. It's a cold, crisp day, and shoppers are snapping up the Japanese retailer's popular lightweight winter wear and undergarments.
Something's missing, though. Where are the signboards calling on South Korean shoppers to boycott Japanese merchandise?
Those admonitions had popped up during the latest standoff in a long trade dispute between the two countries. This particular episode was nominally about export controls, but it was sparked by a Seoul court ruling in 2018 that a number of World War II Korean forced-labor victims could claim compensation from Japanese companies.
Talks between leaders eventually meant that the boycott could be lifted. This signaled a truce in what some see as a classic case of governments wielding trade policy as a weapon in a noneconomic feud. Japan denies weaponizing trade in this way, but underlying, century-old grievances over Japan's treatment of Koreans remain an impediment to less contentious relations between the two countries.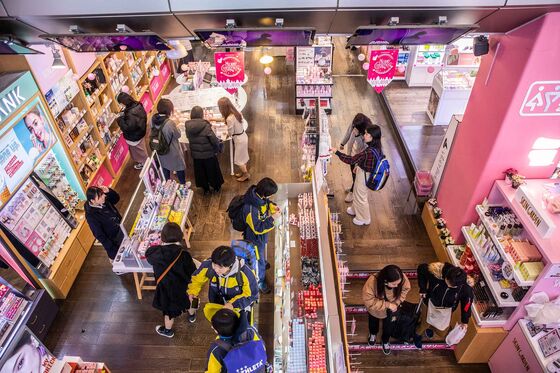 Consumers may be more willing to move on than their governments. That seems to be the case at Uniqlo in Seoul, and so it is along the colorful streets of the Shin-Okubo shopping district in Tokyo, where Korean hangul script adorns store signs and K-pop, Korea's ultimate cultural export, blares from speakers.
Two Japanese girls have flown here from the northern island of Hokkaido. Honoka Chiba and Rinne Kawabata, both 17, are in Tokyo to see the Korean girl group Blackpink in concert later in the day. They couldn't resist the chance to check out the Korean neighborhood and pick up some Korean cosmetics before the show.
They've each dropped almost $200 on Blackpink hoodies, T-shirts, and heart-shaped keychains. "The politics are so messed up," Chiba says. "But your regular people from both countries, they get along just fine." —Sam Kim and Shiho Takezawa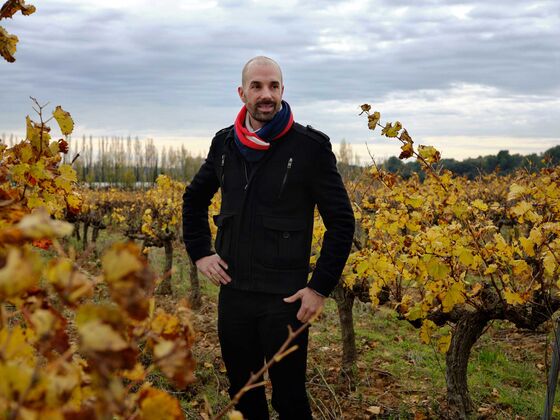 Château des Sources, France
Nicolas Quiles has a job many people would envy. Armed with a diploma in oenology from the University of Burgundy, he travels the Rhône Valley and the arc of France's Mediterranean coast, inspecting grapevines, discussing blends with producers—and tasting the results. It's a shame he's now got to wrestle with something as banal as tariffs.
In mid-October the U.S. imposed a 25% tax on bottles of imported French table wine. That sent Quiles scurrying to source vintages with an alcohol content above 14% that dodge the levy because the U.S. classifies them as dessert wines. He's not happy about it. He's spent years working with winegrowers to perfect a palate-pleasing balance of fruit and freshness in rosé wines that, by design, is near impossible to achieve with a high-alcohol content. "It's absurd," Quiles says as he surveys vines at Château des Sources southeast of Nîmes. "We're going against the trend of recent years, and it's not coherent."
Taste sensitivities aren't the only thing at stake for French wine. For Quiles's employer, winery Vignobles & Cie., the U.S. is the biggest export market and a crucial source of growth at a time when young French people are drinking less wine than their parents.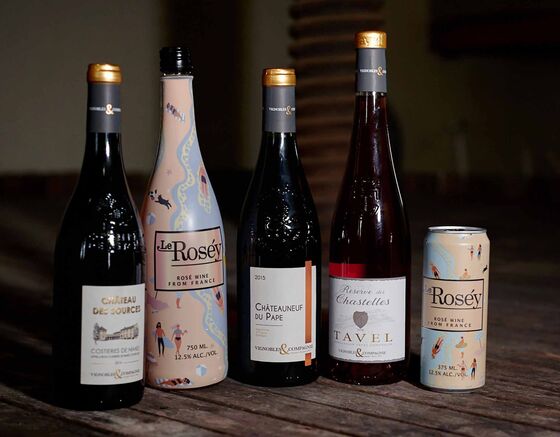 The winery has tax workarounds. In August, Managing Director Thomas Giubbi dispatched his first batch of a 12.5% Costières de Nîmes rosé to a new client, Florida Caribbean Distillers, not in bottles that would incur the 25% tax, but in 24,000 liter vats known as flexitanks. After the taxes were announced in October, the U.S. importer introduced the wine under the brand Le Roséy, complete with a campaign dubbed #TrumpTariffFree.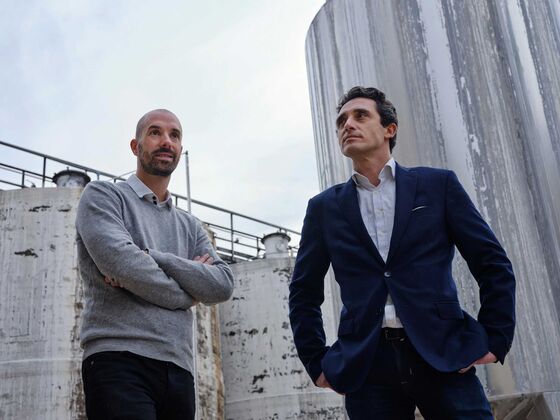 Quiles's quest for a stronger wine has not been in vain. The Rhône Valley's Grenache grapes traditionally produce strong reds anyway. One rosé, Tavel, is rich in color and alcohol because, unlike most of its pink peers, it goes through a maceration process during production. Following a hot summer, the 2019 vintage came in safely over 14%. Vignobles & Cie. has the biggest share of Tavel trading. "I've got to move fast with Tavel," Quiles says. "We'll have to bottle and dispatch it in January because who knows what will happen in February." —William Horobin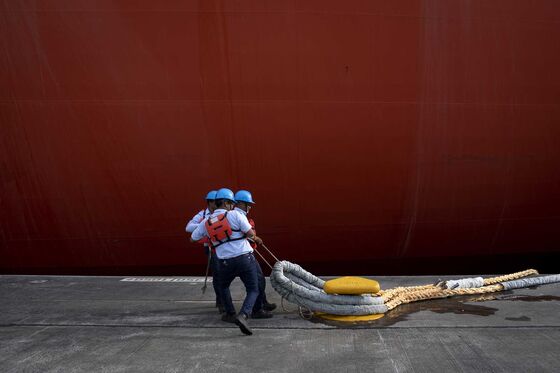 It's before dawn. The Spanish-flagged La Mancha Knutsen is cruising eastward into canal waters. Tugboats speed out to meet the 950-foot-long liquid-natural-gas tanker. One tug, the Cerro Ancón, guides the big vessel into the canal's chambers. Once there, rising waters will lift it about 90 feet, sending it on its way to the Atlantic. Directly behind the La Mancha Knutsen, the Ever Legend, carrying 8,000 containers, prepares for its transit through the locks. "There used to be some downtime before things kicked off," says Daniel Camazón, one of the tugboat fleet captains. "Now it's 24/7."
On the Panama Canal there's no sign of weakening global trade. The canal was expanded a few years ago to accommodate new supersize container ships and megatankers such as the La Mancha Knutsen that are riding the tide of a booming natural gas market. The canal handled a record 469 million tons of cargo in fiscal year 2019, which ended in September, up 6.2% from a year earlier.
Even though this is one of the main thoroughfares for U.S.-China commerce, LNG and liquid-petroleum-gas shipments have more than made up for any trade war-related disruptions, says Ilya Espino de Marotta, the canal authority's deputy administrator. What's more, she says, Japan and South Korea have been buying more LNG and LPG as new gas plants open in the U.S. Larger carriers mean more work for tugboats. The biggest tankers moving through the expanded locks can require as many as eight hours of work for each tugboat compared with fewer than two hours per tug in the old locks, captains say.
At the control tower, engineer Enrique Marín monitors water levels on a series of screens as the La Mancha Knutsen and the Ever Legend make their way through the locks. By 3 p.m. the La Mancha Knutsen has reached the Agua Clara locks on Panama's Atlantic coast. The tugboat Cerro Tigre eases it through and releases it out to the Atlantic. Then the tug turns around, heading off to assist another ship. —Michael McDonald
Donnan covers global trade in Washington. Levingston covers economics in Tel Aviv. Hodali is a reporter in Jerusalem. Soto covers economics in Abuja. Ahissou is a reporter in Cotonou, Benin. Ong covers breaking news in Sydney. Freitas covers agriculture in São Paulo. Curran is chief Asia economics correspondent in Hong Kong. Ponikelska covers economics and Gomez covers news in Prague. Kim covers economics in Seoul. Takezawa covers news in Tokyo. Horobin covers economics in Paris. McDonald covers news in Bogotá.