One in Five U.S. Adults Say They May Not Take Covid-19 Vaccine
(Bloomberg) -- Covid-19 vaccination is ramping up in the U.S. as states loosen eligibility requirements, but millions of Americans still say they may not get a shot.
More than one in five adults don't necessarily expect to get vaccinated, according to a Census Bureau survey completed at the beginning of March. About one-quarter of Americans have already received a Covid-19 vaccine, while the remaining 53% say they definitely expect to do so.
As more people receive doses, vaccine acceptance may increase. Recent Kaiser Family Foundation research found that the more people you know who have been vaccinated or plan to be, the more likely you are to do so as well.
The highest percentage of adults who say they don't necessarily expect to receive a vaccine are concentrated in the South. More than a third of adults in Mississippi, Tennessee, Alabama, Louisiana and Georgia say they don't definitely intend to be vaccinated, according to the Census Bureau survey.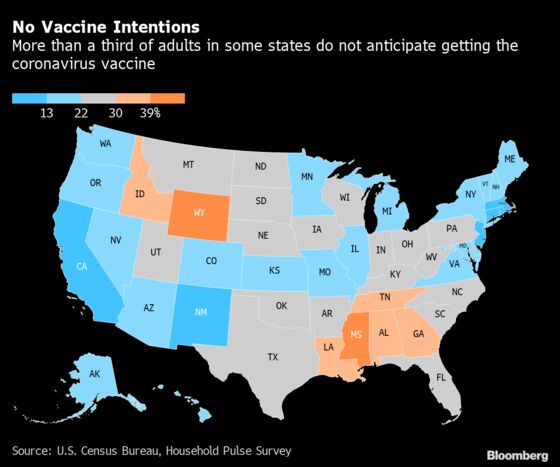 In Wyoming, where skepticism is greatest, 24.2% have already received their doses and another 28.7% see a high likelihood of getting the vaccine when it's made available to them, leaving close to half of adults with no plans to do so.
Among the 15 largest metro areas, the divergence varies widely -- from less than 1% of adults in San Francisco who don't necessarily intend to get a shot to more than 31% in Dallas. The split is largely geographical, with metro areas in the South containing the largest percentage of adults who say they're not likely to get vaccinated.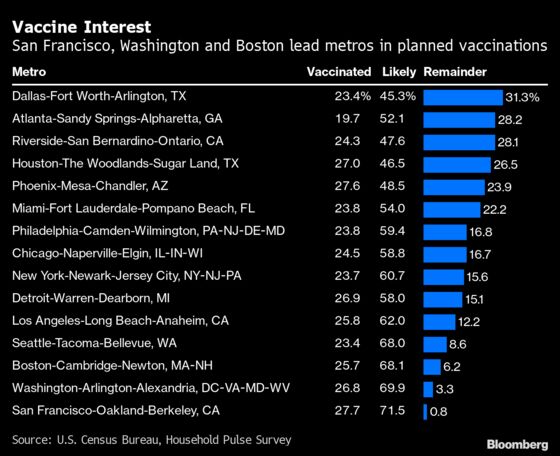 Vaccination requirements vary by state, but those who don't get a vaccine may hinder reopening plans for childcare centers, schools, means of travel and entertainment venues.