Oil Holds Gains After Industry Data Shows Cushing Supply Decline
(Bloomberg) -- Oil clung to gains after an industry-funded report showed another stockpile decline at the Cushing, Oklahoma, storage hub, with supply levels already at the lowest since 2018. 
U.S. crude futures rose 1.1% on Tuesday, holding at the highest since 2014. The industry-funded American Petroleum Institute reported crude supplies at Cushing fell 3.73 million barrels last week, according to people familiar with the data. That would be the largest decline since January if confirmed by U.S. government data on Wednesday. 
Supply declines at Cushing in recent weeks have led to huge moves in timespreads as traders pay premiums for more immediate supply. Supply and demand balances at the hub drive daily oil trading worth hundreds of millions of dollars. 
Fears of stockpiles falling below minimum operating levels have continued to push oil prices higher, said Phil Flynn, senior market analyst at Price Futures Group Inc. Refiners "are drawing down on Cushing at a pretty incredible pace right now. We're getting close to empty."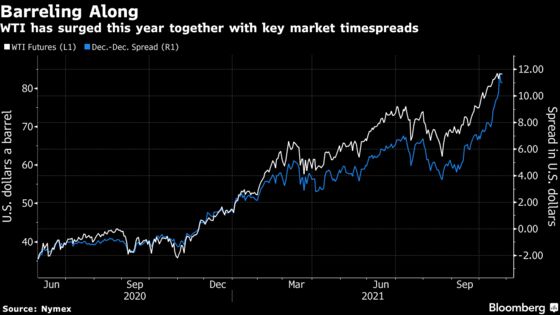 Crude futures have surged in recent months with a shortage of natural gas and coal boosting demand for oil products. Larry Fink, chairman and chief executive officer of BlackRock Inc., even said there's a high probability that crude could hit $100 a barrel. The global benchmark Brent is approaching its 2018 high of $86.74 a barrel. 
The Organization of Petroleum Exporting Countries and its allies are due to gather next week to assess output policy. Nigeria joined fellow OPEC+ member Saudi Arabia this week in saying the group must resist pressure to raise oil production faster until the coronavirus pandemic abates. 
Prices:
West Texas Intermediate crude for December traded at $84.48 a barrel at 4:37p.m. in New York after settling at $84.65 a barrel.
Brent for December settlement added 41 cents to end the session at $86.40 a barrel
The API also reported a crude supply gain of 2.32 million barrels last week. Gasoline and distillate inventories also rose, the data showed. 
The crude market's pricing structure remains deeply backwardated, a bullish pattern in which near-term prices are more costly than those further out. Brent's prompt spread -- the difference between its nearest two contracts -- is at 75 cents a barrel after rallying to as high as 97 cents on Monday. The global benchmark crude is nearing its 2018-high of $86.74 a barrel.
Traders also are keeping tabs on talks that eventually may help revive an Iranian nuclear accord, allowing a pickup in crude exports. Discussions between Tehran and the European Union are due to be held in Brussels on Wednesday, part of a drawn-out effort to clear the way for a wider diplomatic push.
Related coverage:
Saudi Aramco said oil-output capacity across the world is dropping quickly and companies need to invest more in production.
U.S. refineries are enjoying the highest profit margins to turn crude oil into gasoline in four years for this time of the year, as demand for the fuel jumps.
The Western world's biggest oil companies likely just generated more cash than at any time since the Great Recession, and investors are about to find out what they'll do with it.