Oil Rally Gives Kremlin a Headache as Gasoline Prices Spike
(Bloomberg) -- Rising oil prices have been a relief for Russia's finances, but they've given the Kremlin a headache in the form of higher gasoline prices, hitting already-struggling consumers and fueling inflation.
Struggling to control the increases, the government summoned oil executives for a meeting on the issue late Wednesday. In the face of threats from top officials to limit lucrative exports -- what Deputy Prime Minister Dmitry Kozak called "extraordinary measures" -- the industry executives agreed to keep wholesale prices from rising any further and boost local supplies. But few think the relief will last.
Higher gasoline prices come at a rough time for Russians' finances -- and the Kremlin's ambitions to revive growth. Disposable incomes have fallen for the last two months and will face another blow on Jan. 1 from a planned hike in the value-added tax. Inflation is rebounding and the central bank has raised rates amid concerns about new U.S. economic sanctions, adding to fears of stagnation.
"We already know the VAT hike and the weaker harvest than last year will lead to higher inflation," said Vladimir Tikhomirov, chief economist at brokerage BCS Financial Group. "If gasoline keeps going up, that could lead to a substantial rise in inflation."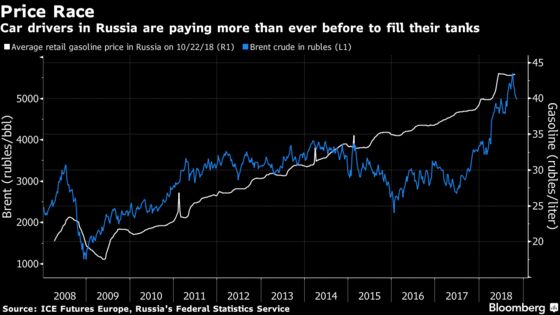 Adding to the concerns are excise tax increases set for the first of the year that could further increase fuel prices, which is a sensitive political issue in the world's largest country by land area.
"The issue of gasoline prices is politically significant nationwide," said Andrei Kolesnikov, an analyst at the Carnegie Moscow Center. "The current curbing of gasoline prices is a political and populist move at its purest."
The stakes are high for the Kremlin. President Vladimir Putin's approval ratings have slipped to seven-year lows amid falling incomes and government plans to raise the pension age. High fuel prices have also triggered scattered protests.
Fuel prices jumped 7 percent in the first half alone, more than double the overall rate of price increases. Angry motorists staged scattered protests in June.
In the past, higher oil usually led to a strengthening of the Russian currency, which softened the impact on fuel prices in ruble terms. But this year, sanctions fears have kept the currency weak -- down 12 percent this year -- while higher world prices have drawn supplies abroad, sending pump prices to record levels.
Putin first weighed in on the issue back in June. Just months after he won a fourth term in a landslide, Putin was confronted on national television by a St. Petersburg truck driver, who said, "The whole country voted for you, and you can't stop gas prices." Putin ordered his government to work out a freeze deal with the industry.
The measures helped keep pump prices flat for most of the summer, but some gas retailers moaned that they were forced to sell at a loss as wholesale prices have surged. At the meeting Wednesday, the big oil companies agreed to freeze those.
"Fuel prices can be controlled only for a limited period of time," said Tikhomirov of BCS. "The considerable reduction in inflation in recent years was one of the government's main achievements and it could disappear."
Higher fuel prices feed through to costs across the economy, with a 10 percent increase in gasoline prices adding 0.2-0.3 percentage points to annual inflation, he said.