Oil Continues Record Slide Despite Saudi Talk of Supply Cuts
(Bloomberg) -- Not even Saudi Arabia's promise to cut exports was enough to stem oil's slide.
Futures in New York fell 0.4 percent Monday, extending a record decline. Oil was pulled 2.5 percent lower after the close amid a slide in equities, with President Donald Trump adding pressure with a tweet criticizing the Saudi plan.
"Equities and oil were pretty much falling in lock-step," said Josh Graves, senior market strategist at RJO Futures in Chicago.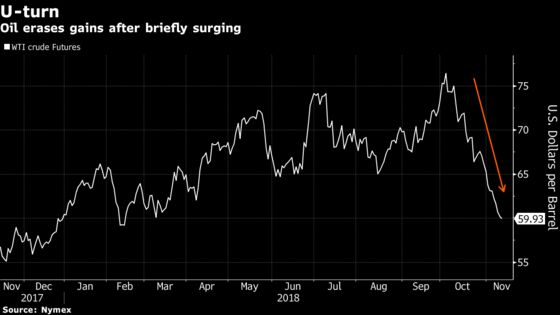 Prices fell further after Trump's tweet, further adding to negative sentiment.
"That gave people pause that there may be strong lobbying about to occur from the White House trying to persuade OPEC not to act on it's proposal," said Bart Melek, head of global commodity strategy at TD Securities in Toronto.
The Saudis are taking the lead in an attempt to counter a price slide of about 20 percent since early October, which reflected U.S. waivers that tempered the impact of sanctions on Iran, as well as signs of an emerging glut in America.
West Texas Intermediate for December delivery declined 26 cents to end the session at $59.93 a barrel on the New York Mercantile Exchange. Total volume traded was 31 percent above the 100-day average.
Brent futures for January settlement fell 6 cents to close at $70.12 on the London-based ICE Futures Europe exchange. The global benchmark crude traded at a $10.04 premium to WTI for the same month.
As it cuts December shipments, the world's biggest crude exporter may struggle to convince others to follow. Iraq has boosted production to a record and its more fragile economy may make it loathe to reverse course. Meanwhile, Russian Energy Minister Alexander Novak said that he "would not want to focus purely on production cuts."
A meeting between Novak, Al-Falih and other producers on Sunday yielded no formal change in supply policy, but did acknowledge they may need "new strategies." Oil chiefs from Venezuela and Oman indicated they may side with the Saudis on the issue of output cuts.
Other oil-market news
Gasoline futures rose 1.5 percent to settle at $1.6367 a gallon. 
OPEC members may be weighing oil production cuts again, worried that a slowing global economy will undermine prices, but in the group's Middle East heartland producers are spending billions to add output capacity for the long term.
The rupiah's plunge to a 20-year low last month is spurring Southeast Asia's biggest economy to push forward with a plan to reduce pain from a growing dependence on imported crude oil.