Oil Futures Sink Into Trade-War Turmoil as Brent Slips Below $70
(Bloomberg) -- Oil prices tumbled, joining a slide in global equity markets as President Donald Trump's latest tariff threats raised the stakes in the U.S.-China trade war.
Brent crude futures fell 1.9 percent on Tuesday, slipping below $70 a barrel for the first time in over a month, as investors fretted about potential damage to the global economy. Even as negotiators prepped for a new round of talks in Washington, Trump's remarks about raising levies on Chinese goods prompted retaliatory threats from the Asian nation.
"There are concerns about the broad economic environment," said Michael Tran, a commodity strategist at RBC Capital Markets LLC in New York. "Clearly, the biggest risk to the oil market right now is the Trump factor coupled with macro headwinds."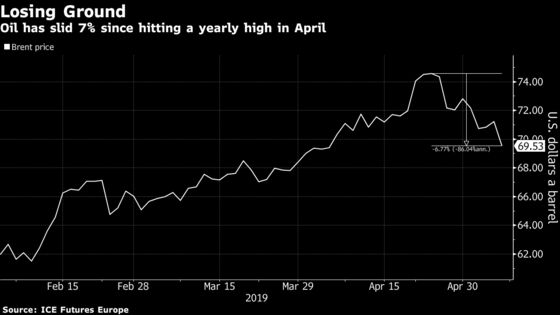 Prices were little changed after the industry-backed American Petroleum Institute was said to deliver a mixed report on U.S. supplies. American crude stockpiles increased by 2.81 million barrels last week, the group found, but gasoline inventories fell by about the same amount, in a bullish sign for demand. Official government statistics are due on Wednesday.
Oil's rally has shifted into reverse since late April on speculation that Saudi Arabia and other producers will plug any supply gaps. American drillers have boosted output to a record while pushing nationwide stockpiles to the highest since September 2017. Trump's dispatch of warships to the Middle East this week only partially arrested the slide.
"We are not very much surprised that prices have come down a little bit lower," Daniel Ghali, a TD Securities commodities strategist, said in a phone interview. "What is surprising is that the market is discounting or disregarding the increase in tensions between the U.S. and Iran after the U.S sent a clear and indisputable signal that they will not tolerate any aggression in the region."
The trade turmoil sent the S&P 500 Index to its biggest loss since January. European, Korean and Japanese markets also slid.
Brent for July delivery closed at $69.88 a barrel on the London-based ICE Futures Europe exchange, its lowest settlement since April 4. The contract has lost about 7 percent since reaching a 2019 high late last month.
West Texas Intermediate crude for June delivery fell 1.4 percent to settle at $61.40 on the New York Mercantile Exchange.
WTI slipped to $61.29 a barrel at 4:45 p.m. in New York following the API report, while Brent was at $69.68.
Saudi Arabia added to the downward pressure on prices with a plan to ship additional cargoes to Asian customers as American sanctions ratchet down supplies from Iran.
Refiners in India are set to receive as much as 200,000 barrels a day of extra supplies from the Saudi kingdom, people familiar with the matter said. Some refiners in China, the top crude importer, and Japan will also receive additional shipments, they said.
Other oil-market news:
Gasoline futures slipped 2.4 percent to $1.9487 a gallon. 
Russia is getting closer to restoring supplies of uncontaminated oil to Europe, the country's energy minister said.
Occidental Petroleum Corp. Chief Executive Officer Vicki Hollub is on the cusp of winning a David versus Goliath bidding war that has captivated the oil industry.