Oil Falls as EU Adds Iran Sanctions Workaround Before G-20, OPEC
(Bloomberg) -- The U.S.-Iran standoff and shrinking American crude stockpiles propelled oil to its biggest monthly gain since January. Prices tumbled immediately before Friday's close as traders closed positions and the EU said a workaround to Iran sanctions was in operation.
Futures in New York tumbled on Friday amid weak U.S. manufacturing data and word that Europe had launched an attempted workaround to American sanctions on Iran. Still, prices gained 9.3% in June, with traders hoping for progress on trade out of a Saturday meeting between U.S. President Donald Trump and China's Xi Jinping. OPEC and allied oil producers are then scheduled to gather in Vienna on Monday to discuss production levels.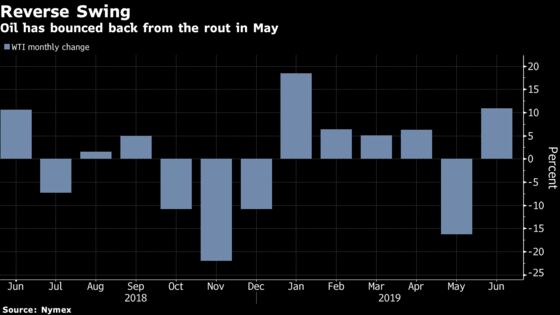 '"Oil is truly at the edge of a coin toss," said Abhishek Deshpande, head oil market strategist at JPMorgan Chase & Co. "There are two pretty strong binary events ahead of us that could pull in either direction."
Growing gloom over the economy spurred by the U.S.-China trade war snuffed out oil's rally in late April. It pushed prices down more than 20% before attacks on tankers in the Middle East reversed the slide. While Trump has threatened to impose more tariffs on Chinese goods, the expectation is he may agree to another truce. Meanwhile, most analysts expect the Organization of Petroleum Exporting Countries to extend output cuts through December.
Despite that optimism, prices slid 1.6% in New York on Friday. After U.S. futures reached a five-week high earlier this week, some investors may be locking in profits or limiting exposure in case the G20 or OPEC+ gatherings disappoint, said Gene McGillian, vice president at Tradition Energy in Stamford, Connecticut.
"You could see some people hedging bets in case things don't work exactly as the bulls think," he said.
West Texas Intermediate for August delivery fell 96 cents to $58.47 a barrel at the close of New York Mercantile Exchange trading. Brent for September settlement lost 93 cents to $64.74 on London's ICE Futures Europe Exchange. The August contract, which expired Friday, was unchanged.
After initially indicating the U.S. may delay further tariffs on China, Trump told Fox Business Network earlier this week that he could add even more levies. In a speech Friday, Xi condemned protectionism and "bullying practices."
OPEC Live Blog
Bloomberg reporters and editors will be live blogging on the OPEC meeting starting around 9 a.m. Vienna time on Monday July 1. Click here to see news, analysis and market reaction, or to save an alert for when the blog starts
Oil analysts, meanwhile, see a range of options for the OPEC+ meeting due to start July 1: The reductions are likely to be extended but not deepened, Goldman Sachs Group Inc. said in a note Thursday. The Saudis will probably push for more extensive cuts, according to a note from JPMorgan. The group may be forced to return to a fight for market share in 2020, Citigroup analysts including Ed Morse wrote in a report on Friday.
Other oil-market news
Gasoline futures declined 0.2% to $1.9425 a gallon.
Brazil is making it easier for Chinese refineries to buy Lula crude as it seeks to win more market share in the world's biggest oil importer.
The world's oil refineries could have done more to be ready in time for new rules governing the kind of fuel that merchant vessels must burn, the president of the world's biggest shipping association said.