Oil Fields Were Growth Gusher for U.S. Economy in Second Quarter
(Bloomberg) -- America's oil industry provided plenty of power for the economy in the second quarter.
Investment in mining exploration, shafts and wells came in at a $129.4 billion annualized rate during the period, up from $109.2 billion in the first three months of the year, the government's report on gross domestic product showed Friday. The annualized gain of 97 percent was the second-largest since 1987.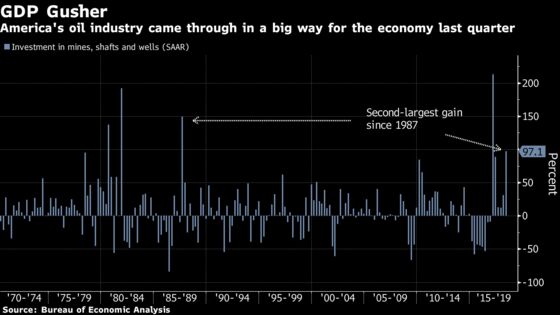 While the category includes all types of mines, oil rigs and natural gas wells represent about 96 percent of the total.
Drilling gains helped lead to a 13.3 percent annualized increase in nonresidential investment in all structures after a 13.9 percent rate of advance in the first quarter. The entire U.S. economy grew at a 4.1 percent pace from April through June, the most since 2014.