Oil Rebounds After Rick Perry Rules Out Tapping Strategic Crude
(Bloomberg) -- Crude erased most of the day's losses after U.S. Energy Secretary Rick Perry said the nation's strategic oil reserves won't be tapped to expand global supplies.
Selling some of those reserves would have a "fairly minor and short-term impact," Perry told reporters in Washington on Wednesday. As sanctions squeeze Iranian crude out of global markets, there are opportunities for other major crude producers to fill supply voids, he said.
"This is a situation where the market expected U.S. President Trump to release oil from the reserves in November but that's not going to happen," said Phil Flynn, senior market analyst at Price Futures Group in Chicago. "The market all of a sudden looks a lot tighter."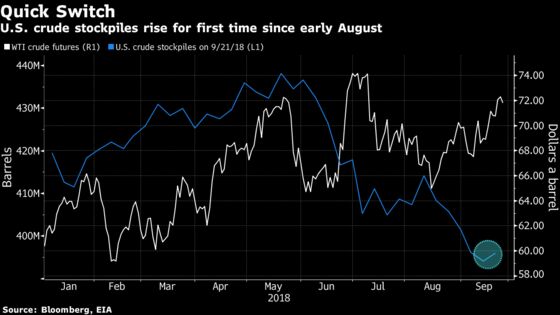 Prior to Perry's remarks, futures closed down 1 percent in New York after crude stockpiles expanded for the first time since early August, according to the Energy Information Administration. Refiners are buying less crude as post-summer maintenance work ramps up. The government's weekly assessment wasn't entirely bearish, however: Overseas demand for American oil jumped to a two-month high.
Refining rates in the world's biggest economy underwent "a pretty big change," said Matt Sallee, who helps manage $16 billion at Tortoise in Leawood, Kansas. Still, "we are seeing exports continue to increase, so that is more of a permanent trend."
U.S. efforts to isolate Iran, OPEC's No. 3 producer, are beginning to tighten worldwide crude markets. South Korea's biggest refiner, SK Innovation Co., is increasing purchases of American crude after shunning Iranian cargoes. India also is cutting crude imports from the Islamic Republic to zero.
West Texas Intermediate crude for November delivery rose 50 cents to $72.01 a barrel on the New York Mercantile Exchange in the first 10 minutes after Perry's comments.
Brent for November delivery rose 42 cents from the settlement to $81.76 after the energy secretary spoke.
The EIA reported American oil inventories rose last week by 1.85 million barrels, confounding most analysts in a Bloomberg survey who were expecting a decline. Meanwhile, U.S. refinery utilization rates dropped to the lowest since May. At the key pipeline hub in Cushing, Oklahoma, crude inventories expanded for the first time in three weeks.
Gasoline futures fell 0.4 percent to $2.0585 a gallon.
As sanctions on Iran begin to bite, higher commodity prices may cause the convergence of U.S. markets with the rest of the world.
Marathon Petroleum Corp. is in talks to buy a storage terminal on the U.S. Gulf Coast, according to a person familiar with the matter, in a deal that would expand its ability to tap into booming oil exports.