Oil Gives Back Gains as API Sees Big Jump in U.S. Crude Supply
(Bloomberg) -- Oil surrendered some of its gains after an industry report was said to show a big jump in U.S. crude and refined products supplies, undermining talk of a tight market.
Futures were up about 0.5% in late trading after the American Petroleum Institute was said to find an 8.63 million-barrel increase in oil inventories last week, along with swelling gasoline and distillate stocks. Prices had closed the official trading session with a 1.2% gain earlier after reports of two drone attacks on Saudi Arabia's main pipeline.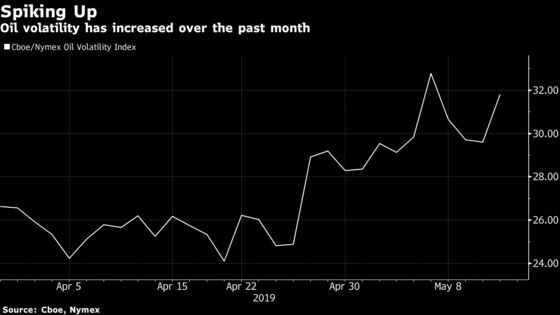 If the numbers are confirmed by official government data on Wednesday, "that could put the brakes, or at least put a speed bump in the way if the market is determined to go higher," said Bob Yawger, futures director at Mizuho Securities USA.
Oil markets have turned more volatile this month as crude faces the specter of a full-blown trade war, a combustible Middle East and output disruptions from Norway to Nigeria. A U.S. drilling surge and a pending decision by the Organization of Petroleum Exporting Countries and its allies on whether to extend production curbs had been taking a back seat to the various crises.
"We are witnessing a tussle between economic concerns and tightening oil-market balance," said Tamas Varga, an analyst at PVM Oil Associates Ltd. in London.
West Texas Intermediate crude for June delivery was up 33 cents at $61.37 a barrel on the New York Mercantile Exchange at 4:56 p.m., after closing out the official trading session at $61.78. Brent for July settlement was up 1% at $70.91 a barrel on the London-based ICE Futures Europe exchange, after closing at $71.24.
In Saudi Arabia, two pump stations on the East-West pipeline, which carries oil to the Red Sea port of Yanbu, were attacked by armed drones, Energy Minster Khalid Al-Falih said in a statement earlier. That ignited a fire that caused "limited" damage to one station, but it was eventually brought under control, according to the statement.
State-run Saudi Aramco took precautionary measures and temporarily stopped the pipeline, and is now evaluating the situation and working on restoring operations, according to the statement. Exports of crude oil and products are continuing as normal, Al-Falih said.
Tensions in the region intensified this month after the Trump administration moved to tighten sanctions on Iranian oil sales. The Islamic Republic has threatened to block oil shipments through the Persian Gulf's Strait of Hormuz if the sanctions halt its exports. The U.S. responded by deploying an aircraft carrier, bomber planes and defense missiles to the region.
Other oil-market news:
Gasoline futures rose 0.7% to $1.9767 a gallon.
Exports of the Permian Basin's newest kind of oil are set to jump as production surges, exceeding the appetite of U.S. refiners.
OPEC said that rival oil producers are reviving investment in new supplies after last year's recovery in crude prices.