NYC Subway Boss's Pledge to Modernize Clashes With Comptroller
(Bloomberg) -- The head of New York City's problem-plagued subways promises riders will notice service improvements by year's end. At the same time, the state comptroller warns the agency is already behind schedule making emergency fixes.
"It will not be quick. It will not be cheap. And it certainly won't be easy," New York Transit Authority President Andy Byford said during a CBS Corp. "60 Minutes" interview broadcast on Sunday. "My message to New Yorkers is -- there is no gain without a little pain. This will be worth it."
Byford said it would cost $40 billion over 10 years to reverse decades of under-funding on a system now beset by track fires, power outages and signal malfunctions. Previous estimates had placed the cost at $33 billion.
"I absolutely want New Yorkers to start feeling, by the end of this year, it's definitely getting better," said Byford, who's British and started his career with the London Underground. He came to the New York subway system after running Toronto's mass transit agency.
Major subway incidents declined 35 percent to an average of 45-a-day in September compared with a year earlier on the busiest mass transit system in the U.S., according to the agency. But repairs have lagged on an emergency action plan created 15 months ago, according to state Comptroller Thomas DiNapoli.
The pain will be felt acutely by riders of the L train, which carries passengers under the East River between Brooklyn and Manhattan. The MTA will close the tunnel for 15 months starting in April, opting for a full shutdown to do the needed modernization rather than piecemeal repairs that have become routine amid chronic operating deficits.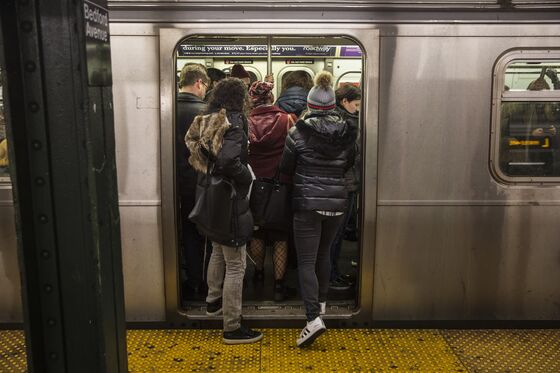 In June 2017, New York Governor Andrew Cuomo declared a system-wide "disaster emergency" and called for a plan to deal with the causes of the delays, including signal malfunctions, power failures and broken tracks.
The agency presented an "action plan" in July 2017, calling for more than $830 million in quick fixes focused on the parts of the system responsible for most breakdowns and delays; new cars on trains to ease overcrowding; more police to reduce track fires caused by littering; and better maintenance of station elevators and escalators.
The emergency action plan "has gotten off to a slow start," DiNapoli said earlier this month. With three months remaining in the 18-month program, the MTA has committed less than 60 percent of $348.5 million in capital funds for improvements such as upgrades to its signal system. Hiring additional maintenance workers has also lagged, the report said.
DiNapoli said the agency faces its greatest challenges in decades. It plans fare and toll increases of 4 percent in 2019 and again in 2021, and another round of budget reductions. Still, the MTA projects operating budget gaps will total $262 million in 2020, $424 million in 2021 and $634 million in 2022. The MTA has asked the state to authorize new sources of funding, but those resources are not assured, the comptroller said.
A three-year decline in subway ridership has had a significant effect on the MTA's operating budget, the comptroller found. Subway and bus ridership in 2019 is projected to be 236 million rides lower than the MTA projected three years ago, which could result in a cumulative revenue loss of $822 million from 2016 through 2019.
While the city owns the subway system, the state MTA runs it. Both Cuomo and New York City Mayor Bill de Blasio agree that the authority, which has $38.6 billion in debt, requires more capital investment. They disagree on who should pay for it and how.
In March, S&P Global Ratings lowered its rating of the system to A+ from AA-. Capital programs have placed a heavy burden on the MTA's operating budget. Debt service is projected to reach $3.3 billion by 2022, an increase of 26 percent in just four years. By 2022, debt service is projected to consume 18.6 percent of total revenue and 36.5 percent of fare and toll revenue, according to the comptroller's office.