Novavax Deal With Mabion Boosts Poland's Nascent Biotech Scene
(Bloomberg) -- Poland's fledgling biotechnology industry got an unexpected vote of confidence after Mabion SA won a deal with Novavax Inc. to potentially produce its future Covid-19 vaccine.
Mabion will start commercial-scale production trials of Novavax shot and obtain access to the U.S. company's technology, according to an agreement unveiled on Wednesday. Shares in the Warsaw-listed biotech company soared a record 89%.
"We hope that this is the first step toward building a significant production capacity of the vaccine in Poland," said Mabion's founder Maciej Wieczorek.
If trials are successful, the company will become part of Novavax supply chain with 1.5 billion of doses of its vaccine already contracted worldwide and likely to be approved for use in Europe this quarter, he told a video conference on Wednesday.
Mabion's landmark agreement with the U.S. firm is a sign that Polish companies are increasingly capable of capturing a share of the booming biotechnology market thanks to the quality of their laboratories as well as funding from share offerings and state grants for lengthy research.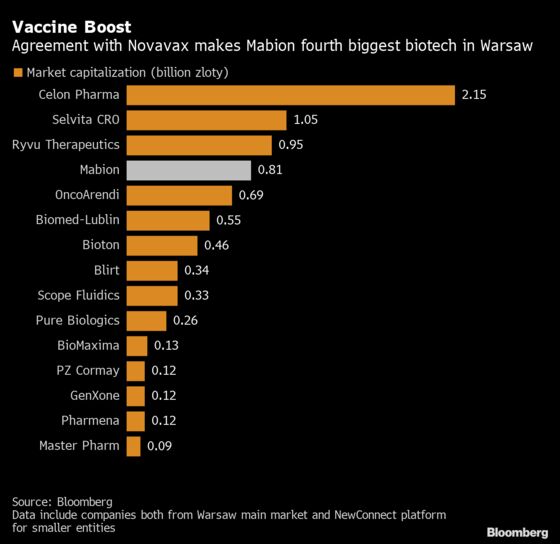 Warsaw-traded OncoArendi SA last year sealed a $380 million deal with Belgium's Galapagos NV to develop a pulmonary fibrosis treatment and Celon Pharma SA got positive clinical trial results of its anti-depressant drug in the most recent example of the local industry's growing strength.
The Novavax deal is also an opportunity for Mabion to recover from its failure to get timely registration of its main cancer drug from U.S. and Europe's authorities. Celon Pharma SA, which is controlled by Wieczorek, gained as much as 22% on Wednesday.
"The deal creates a significant opportunity for the Polish company," said Katarzyna Kosiorek, an analyst at Trigon Dom Maklerski SA. "Novavax technology may have advantages over other vaccines given its storage requirements and high efficacy when it comes to virus mutations."
As part of the deal, Mabion will receive 40 million zloty ($8.8 million) in financing from Poland's state development fund PFR SA to double it production capacity. It comes after Prime Minister Mateusz Morawiecki repeatedly railed against the European Commission for its apparent failings in ensuring that vaccine producers deliver the amounts of Covid-19 jabs they had promised.
The east European country had to slow the pace of its vaccinations earlier this year due to supply shortfalls. Faced with a renewed surge in virus cases, Poland is now considering buying doses from China. On Monday, President Andrzej Duda discussed the possibility during a phone call with his Chinese counterpart Xi Jinping.
PFR is ready to provide more financing to Mabion once it successfully passes production tests and will need to ramp up its output as part of the deal, according to Borys.
"This investment increases the reliability of vaccine supplies to Poland," PFR head Pawel Borys told a joint video conference with Mabion's Wieczorek. "We already have a number of vaccine production technologies globally, but the hardest thing is to have the production capacity."
The investment in Mabion is a way to address that to avoid further delays in deliveries, he added.