Norwegian Expansion Keeps Pace as Norges Bank Tightening Nears
(Bloomberg) -- Norwegian economic growth kept up momentum in the second quarter, boosted by consumer spending and investments, as the central bank nears its first interest rate increase in more than seven years.
Mainland economic growth, which excludes oil and shipping, expanded by 0.5 percent in second quarter, up from a revised 0.4 percent in the prior period. That matched the average estimate in a Bloomberg survey of 12 economists, while the central bank forecast was for 0.7 percent. When including petroleum, the economy grew 0.4 percent.
"Today's data was really encouraging and definitely support Norges Bank's assessment of the Norwegian outlook," Erica Blomgren, chief strategist at SEB AB, said in an emailed comment. "Should be no doubt rates will be hiked on Sept. 20."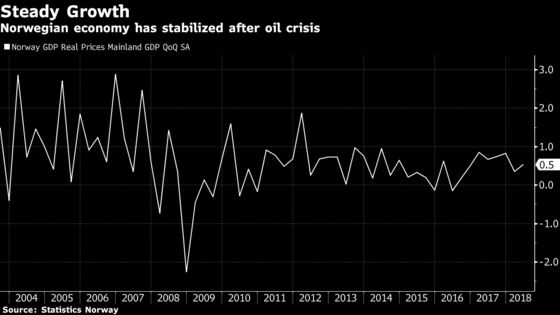 Central bank Governor Oystein Olsen earlier this month reiterated his message from June that the bank plans to raise rates in September. Record monetary and fiscal stimulus has put the economy back on its feet after western Europe's largest crude exporter endured the worst oil industry slump in a generation.
The krone was little changed at 9.669 per euro as of 8:51 a.m.
Another key release by Statistics Norway on Thursday also gave positive signals for the economy. Oil companies operating in Norway raised their forecast for investments next year by 6.5 percent to 165 billion kroner. The higher estimate is driven by larger investments in field development and exploration.
Consumer consumption rose 1.1 percent in the quarter, while public spending increased 0.4 percent. Exports gained 1.5 percent and imports surged 4.3 percent. Investments increased 5.4 percent, recovering from a sharp decline in the first quarter. The oil industry and shipping output fell 0.7 percent in the period. Employment grew 0.3 percent in the quarter, slowing from 0.5 percent at the beginning of 2018.