Norway Stays the Course for Another Rate Increase in Early 2019
(Bloomberg) -- Norway's central bank kept its key interest rate unchanged and reiterated its intention to tighten again early next year as policy makers proceed cautiously in unwinding the record stimulus unleashed over the past years.
Norges Bank on Thursday held its benchmark at 0.75 percent, as anticipated by all analysts surveyed by Bloomberg. The krone traded 0.1 percent higher at 9.5039 per euro as of 10:29 a.m. in Oslo.
"The Executive Board's assessment of the outlook and balance of risks imply a gradual increase in the key policy rate," the bank said. "Economic growth has been a little lower and inflation somewhat higher than projected, but the outlook and the balance of risks do not appear to have changed substantially since the September Report."
Policy makers in Oslo are taking a careful approach in raising rates after years of record stimulus. With central banks in Stockholm and Frankfurt still hesitant to tighten their benchmarks from rock-bottom levels, the danger is now that excessive tightening will stoke unwanted gains in the krone.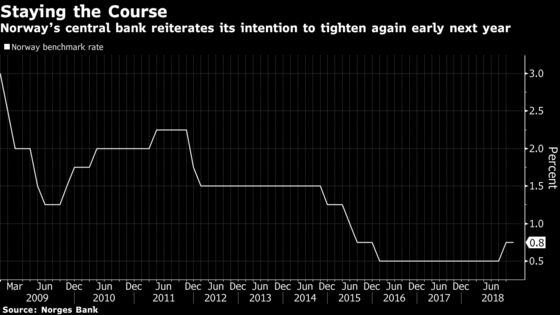 The rate decision was a so-called interim meeting, which is in between monetary policy reports, where it rarely makes any changes or issues guidance on future rates.
"Inflation has been slightly higher, but then growth has been slightly weaker," Kari Due-Andresen, chief economist at Handelsbanken in Oslo, said in an emailed comment. "Gradual increase of policy rate still on the cards."
"We continue to expect a rate hike in March, as signaled in the rate path from September," Kyrre Aamdal, senior economist at DNB Markets in Oslo, said in a note.
The bank will release its next monetary policy report on Dec. 13.