Norway's First Interest-Rate Hike Isn't Far Off: Decision Guide
(Bloomberg) -- Discover what's driving the global economy and what it means for policy makers, businesses, investors and you with The New Economy Daily. Sign up here
The prospect of a Norwegian interest-rate increase as soon as September is likely to be the key focus of the central-bank decision there this week.
While all economists in a Bloomberg survey expect the Norges Bank to keep its key deposit at zero for an eighth consecutive meeting, the possibility that it might soon become the first developed nation to start a hiking cycle is drawing heightened scrutiny.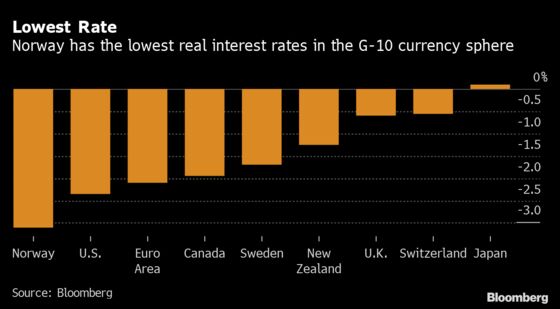 Norway has the lowest real interest rates -- the difference between its inflation and policy rates -- among holders of the world's major currencies, a backdrop that could embolden policy makers to raise borrowing costs to cool the booming housing market.
Helping to determine that will be the central bank's assessment of progress in vaccinations, and how it will affect reopening the Nordic region's richest economy. Officials' most recent guidance suggested equal odds of a hike in September or December, and the latest data haven't clearly tipped the scales either way.
What Bloomberg Economics Says...

"The combination of vaccination progress and rising house prices could nudge the Norges Bank to add a hawkish tone to the press release that will accompany its monetary policy decision. Still, we don't expect the bank to promise earlier hikes as there's some uncertainty about the trajectory for growth."

--Johanna Jeansson, economist. Click here for the full preview
Norway's underlying inflation was in line with central bank forecasts in March, while economic expansion in January and February was weaker than anticipated.
House prices have been rising at their fastest annual pace since 2016, though data published on Wednesday showed a slowdown in April, with a second monthly decline in Oslo. That might help soothe financial stability concerns at the central bank.
Vaccine efforts have been disrupted by Norway's decision in March to suspend use of AstraZeneca Plc jabs, based on the judgment that associated blood-clot risks are too great. Next week, a committee will rule on how Norway could be affected by a decision to permanently rule out immunizations using Astra's and Johnson & Johnson's shots.
Still, delivery forecasts for other vaccines have been raised, suggesting the nation can still reach its present inoculation timeline.