Oil Riches Put Norway on Divergent Path Toward Higher Rates
Norway's oil riches are allowing the country to avoid the slow growth, slow inflation trap that's gripping much of the developed world.
Its central bank on Thursday raised its key interest rate for a second time since September and signaled there's more to come.
After delivering a rate increase to 1 percent, Norges Bank Governor Oystein Olsen flagged that another hike could come as soon as June, sending the krone soaring. The governor, who also oversees Norway's $1 trillion wealth fund, acknowledged that his "oil-driven" economy sets his country apart.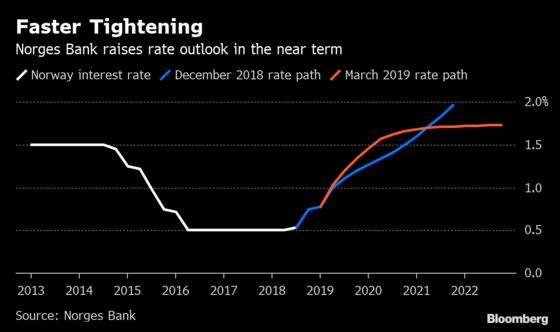 Central banks in the euro zone and neighboring Sweden are mired in negative interest rates even after years of record stimulus. On Wednesday, the U.S. Federal Reserves signaled it won't tighten policy at all in 2019, reflecting concerns over slowing growth and inflation.
"The Norwegian economy has benefited for decades from oil revenue, and from the impact of increased activity in the petroleum industry," Olsen said in an interview on Bloomberg Television. "We're still in that situation, and if you take the much higher investments in our oil industry this year and to some extent next year, it tells you that oil is still a growth engine."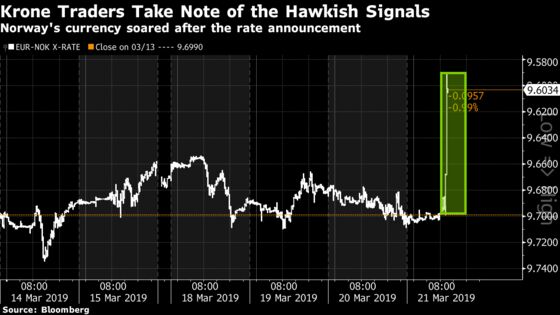 Norway's economy is growing faster than a lot of its peers. Unemployment is below 4 percent and inflation is above target as oil prices have rallied. What's more, the krone has so far remained weak despite the country's economic strength, which has given the central bank room to raise rates without hurting exports.
The bank on Thursday raised its outlook for mainland economic growth this year to 2.7 percent and sees an expansion of 1.8 percent next year. Oil investments will grow almost 13 percent this year while inflation will be 2.3 percent, above the 2 percent target.
What the Others Are Doing
SNB Keeps Rock-Bottom Interest Rates, Cuts Inflation Forecast
Powell Aims to Avoid Japan Deflation Trap With Dovish Fed Tilt
Fed's Longer Pause Opens Door for Asian Central Banks to Cut
Taiwan Central Bank Keeps Rate at 1.375%; Decision History
Economists Read ECB Flip-Flop as Concern Over Weakening Momentum
Riksbank Governor Turbo Charges the Krona With an Upbeat Message
Policy makers also penciled in another hike as soon as June and predicted a second one before the end of the year. But they tempered their longer term outlook, predicting the main rate would only peak at 1.75 percent.
Olsen said that he now expects the krone to strengthen from here, but that its gains will be "modest."
"The first key message from Norges Bank today is that rate normalization continues, driven by domestic factors," said Marlene Skjellet Granerud and Kjetil Martinsen, economists at Swedbank. "We expect the next hike in September."