Norway Raises Benchmark Rate for First Time in Seven Years
(Bloomberg) -- Norway's central bank raised interest rates for the first time in seven years as policy makers in Scandinavia's richest economy start unwinding the record stimulus put in place to fend off the worst oil crisis in a generation.
Norges Bank increased its benchmark rate by a quarter point to 0.75 percent, as predicted by all 23 economists surveyed by Bloomberg before the decision. The bank flagged it will raise rates again at the start of next year, but also unexpectedly lowered its longer term projections. The krone slid 1 percent to 9.6148 per euro as of 11:03 a.m.
"There are limits to how fast we can raise rates," Governor Oystein Olsen said at a press conference, citing developments abroad and the krone as important factors.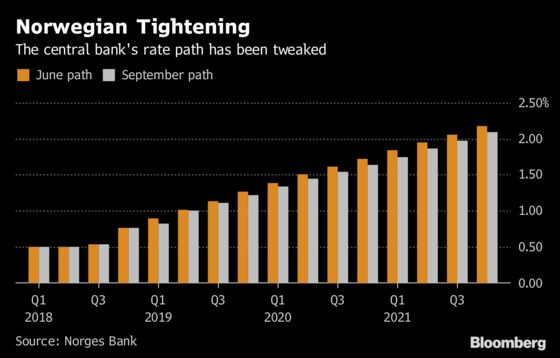 The tightening had been flagged since June and comes as the economy of western Europe's biggest oil producer is nearing capacity with unemployment below 4 percent, crude prices surging and inflation near target. The krone has also been trading near record lows, giving Olsen and his colleagues further room to lift rates.

The Norwegian central bank is now starting on a faster exit from record stimulus than its counterparts in Stockholm and Frankfurt. Backed by record fiscal stimulus from the nation's $1 trillion wealth fund, Olsen also hasn't had to cut rates as deeply as elsewhere and hasn't needed to resort to unconventional policies such as bond purchases.
A surge in crude prices this year has now revived the country's offshore industry -- with investments seen rising this year -- and allowed the government to start putting money back into the wealth fund for the first time since late 2015.
For many borrowers, it will be the first time the benchmark rate goes up. The increase could mean higher mortgage costs since most Norwegian loans are tied to the three-month interbank lending rate, testing the housing market which has been recovering after stricter lending regulations caused a dip in 2017.
"Uncertainty surrounding the effects of higher interest rates suggests a cautious approach to interest rate setting," the bank said.
The rate path was lowered due to domestic demand situation after economic growth and labor market developments have been weaker than projected, the bank said. It also expects wage growth to be weaker than earlier estimated. Rising oil prices and the weaker krone pulled the path in the other direction.
2018
2019
Mainland GDP
2.5%
2.5%
Underlying CPI
1.4%
1.7% 
Wage Growth 
2.8%
3.2%
Petroleum Investments
2.5%
10.8%
Norges Bank projections