Norway's Economy Falls More Than Feared Amid Virus Measures
Norway's economy contracted more than expected in the first quarter after restrictions to stem the spread of new virus strains held back business growth.
Mainland gross domestic product, which adjusts for Norway's offshore industry, contracted 1%, the statistics office said on Wednesday. Economists surveyed by Bloomberg had forecast a decline of 0.7%, while Norges Bank was expecting a 0.4% drop.
The wealthiest Nordic economy has weathered the pandemic better than most rich peers, tapping its $1.3 trillion wealth fund to provide relief. Still, restrictions imposed this year to rein in the virus have hampered Norway's recovery, while immunization efforts are being slowed as vaccines get shelved over blood-clot concerns.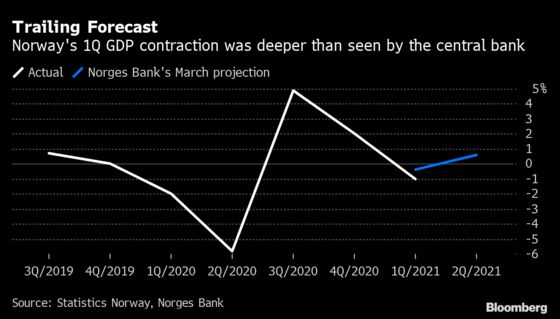 The krone, which is among this year's best-performers of the world's 10 most-traded currencies, fell as much as 0.3% against the euro on Wednesday. Against the dollar, it fell as much as 0.6%, before recouping most of those losses.
"Measures to fight infection throughout the winter have affected economic activity even more strongly than expected," Handelsbanken analyst Marius Gonsholt Hov said in a client note. "But the deviation is temporary." He added that Norges Bank will probably place less emphasis on weaker growth data amid an improving outlook as Covid restrictions get wound back again.
What Bloomberg Economics Says...

"Restrictions weighed more heavily on domestic demand than we expected, meaning activity started the second quarter on a weaker footing than projected. Still, the first step towards opening the economy has been taken and we expect a pronounced rebound from late in the second quarter. A recovery on hold reduces some of the the risk that a first rate hike will come as soon as September (we expect a lift-off in December)."

-- Johanna Jeansson, Nordic economist

--Click here for the full report.
The Finance Ministry expects Norway's mainland economy to grow 3.7% this year following a 2.5% contraction in 2020. The oil-rich economy is "at an inflection point" and will recover "fast" after the summer, according to economists at Nordea, the Nordic region's largest bank.
Norges Bank last week maintained its outlook for raising its key deposit rate from zero during the second half of the year, putting it well ahead of peers such as the European Central Bank, which remains heavily committed to emergency stimulus.
But Governor Oystein Olsen said Norges Bank's forecast was shaped by "significant" uncertainty due to continued risks caused by the pandemic.