Norway Growth Cools in Third Quarter as Drought Damps Output
(Bloomberg) -- Norway's economic growth slowed in the third quarter, falling short of the central bank's estimate as it prepares to raise interest rates again early next year.
Mainland gross domestic product, excluding oil and shipping, rose 0.3 percent in the third quarter, Statistics Norway said on Tuesday. A Bloomberg survey of 13 economists predicted growth of 0.5 percent, while the central bank forecast 0.7 percent growth.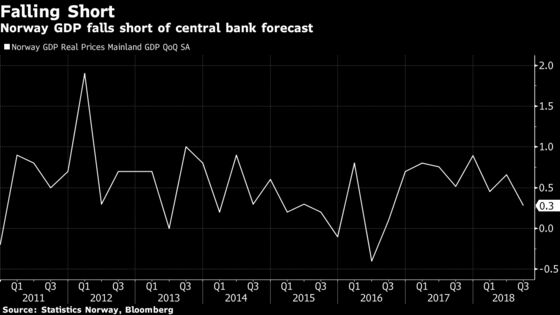 Overall economy expanded by 0.6 percent, in line with estimates, as petroleum output powered ahead amid a recovery in crude prices.
Rising electricity prices and higher interest rates eroded consumer spending in the quarter, while exports gained.
Norway's central bank raised rates for the first time in seven years in September and signaled another rate increase would come in the first quarter of next year.
Growth has so far this year been more sluggish than forecast by the central bank, hurt by low production in the power and agricultural sectors after the summer drought.
Data this month have also shown inflation falling short of forecasts, cooling speculation the bank would tighten again already in December.
Rising crude prices have revived the country's offshore industry and Statistics Norway sees petroleum investments rising by 10 percent next year amid cost cuts and improved profitability in new oil fields. Norway's central bank Governor Oystein Olsen expects the oil industry will be a significant engine for growth ahead.
The krone fell 0.05 percent to 9.5708 per euro as of 8:57 a.m. in Oslo as speculation of a December rate increase cooled.
"As expected, negative contribution from private consumption as goods consumption declined in 3Q," Danske Bank senior analyst Kristoffer Kjaer Lomholt said. "This is in our view temporary in nature and caused by real disposable income being eroded by soaring electricity prices as a result of the very dry and warm spring/early summer."
"We expect Norges Bank to continue to hike the key policy rate next year, but these figures support our view that the hikes will be gradual,"said Kyrre Aamdal and Jeanette Strom Fjaere, economist at DNB ASA.
"The underlying momentum is a bit weaker than anticipated, but the deviation is not large enough to question the rate hike in March," Handelsbanken economist Marius Gonsholt Hov said. "But if anything, the data suggest a careful approach to a further tightening of monetary policy."
Fore more details, see this table