North Korea's Kim Praises Trump as Both Raise Outlook for Talks
(Bloomberg) -- North Korean leader Kim Jong Un lauded U.S. President Donald Trump Wednesday and said he expects nuclear negotiations to advance "step-by-step," state media said, a sign the regime anticipates sanctions relief as the two leaders plan a second meeting next month.
Trump said on Twitter Thursday morning that he expects "another good meeting soon" and that his first meeting with Kim resulted in building a better relationship, the return of "hostages & remains" and the lessening hostilities between the two nations.
"This is more than has ever been accomplished with North Korea," Trump wrote.
Kim's earlier remarks came during a meeting with North Korean officials who visited the White House last week and spoke with Trump, according to the state-run Korean Central News Agency. Kim praised the U.S. president's "unusual determination and will for the settlement of the issue" and ordered "technical preparations" for the next meeting between the two leaders.
"Kim Jong Un said that we will believe in the positive way of thinking of President Trump, wait with patience and in good faith and, together with the U.S., advance step by step toward the goal to be reached by the two countries," the report said. The statement was the first official confirmation that Kim had agreed to a second summit.
Trump sent a personal letter through the delegation, KCNA reported, adding: "Upon receiving the good personal letter sent by President Trump, the Supreme Leader expressed great satisfaction." The White House confirmed Trump responded to a letter he received from Kim.
Trump, who once ratcheted up tensions by firing off insults on Twitter that included calling Kim a "little rocket man," has had an old-fashioned correspondence with the North Korean leader as ties have warmed. The two have now established what Trump calls "a very good relationship."
North Korea has long maintained that "step-by-step" negotiations -- indicating a phased approach in which each side gives up a little at a time -- were the only way to advance talks. The Trump administration, however, has balked at Kim's demands for sanctions relief, vowing to maintain pressure until Kim commits to "final, fully verified denuclearization."
In addition to potential sanctions relief, North Korea could also be seeking some long-stated goals including the suspension of joint U.S.-South Korean military drills and a peace treaty to replace the armistice that ended the 1950-53 Korean War, said Vipin Narang, an associate professor of political science at the Massachusetts Institute of Technology.
"The question is obviously what Kim's next 'step' would be," he said in an email.
The U.S. and North Korea may agree on completing denuclearization and lifting sanctions by the end of 2020 during their second summit, South Korea's DongA Ilbo newspaper reported, citing unidentified diplomatic sources. The two countries are close to reaching a comprehensive agreement that includes the timing of North Korea's denuclearization and the U.S.'s corresponding measures, the report said.
Some seven months after Trump first shook hands with Kim in Singapore, North Korea has made no commitments to allow weapons inspections or dismantle its growing arsenal of warheads and intercontinental ballistic missiles. The two sides are expected to meet in Vietnam, Bloomberg News reported Sunday, citing people familiar with the talks.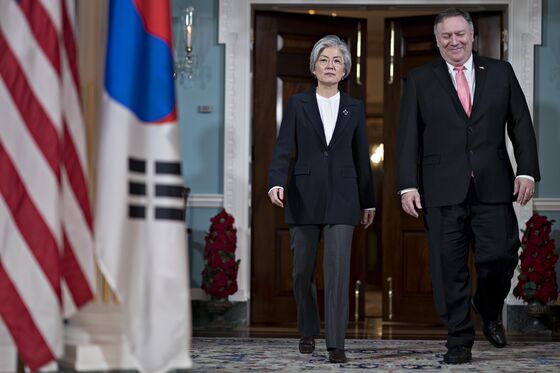 Trump's agreement to hold a second meeting with Kim had already been seen as an indication that the U.S. was softening its position, after the North Korean leader threatened to walk away from talks if the American side didn't ease off. South Korean Foreign Minister Kang Kyung-wha said last week that Seoul and Washington were discussing "corresponding measures" to reward Kim's steps toward denuclearization.
Earlier this week, Secretary of State Michael Pompeo told the World Economic Forum in Davos the private sector is poised to step in and boost North Korea's staggering economy if it gives up its nuclear ambitions.