North Korea's Kim Slams U.S. for 'Bad Faith' in Talks With Putin
(Bloomberg) -- North Korean leader Kim Jong Un used talks with Russian President Vladimir Putin to accuse the U.S. of "bad faith" in nuclear talks, warning that the current detente on the Korean Peninsula was at risk.
Kim told Putin during a meeting in Vladivostok that the dispute with the U.S. could "return to its original state," the state-run Korean Central News Agency said Friday, in an apparent reference to the cycle of threats and counter-threats by both sides. Earlier, Putin told reporters that Kim had asked him at their Thursday summit to "inform the American side about his position."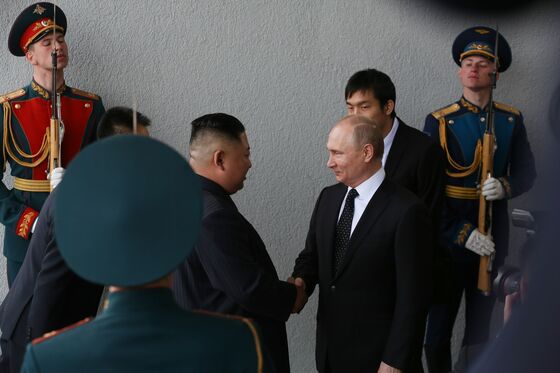 Kim's visit to Vladivostok, which ended Friday, was his first trip to Russia since becoming leader in 2011. The summit was seen as an effort to demonstrate to the U.S. and its allies that North Korea has alternative sources of diplomatic support after President Donald Trump walked out of his second meeting with Kim in February without a disarmament deal. Trump said North Korea offered too little to warrant lifting sanctions.
A State Department spokesman said late Thursday that the U.S. would continue to closely coordinate with its allies and partners to achieve the "final, fully verified denuclearization of North Korea."
By meeting Putin, Kim received the political and diplomatic support from an ally who is willing to challenge Washington and agrees with North Korea's views on denuclearization, said a former South Korean ambassador to Russia.
"Russia views that sanctions should be flexible, so that is similar to North Korea's view," said Wi Sung-lac, a former South Korean ambassador to Russia and envoy to six-party nuclear talks with North Korea. "It also believes that using pressure only as a means of negotiations is not desirable."
In the days before the Kim-Putin summit, North Korea had complained that intermediaries to Trump -- ranging from U.S. Secretary of State Michael Pompeo to the South Korean government -- aren't getting his message across. While Russia extended the invitation to Kim almost a year ago, the North Korean leader only accepted after the Hanoi talks with Trump broke down.
"Chairman Kim Jong Un himself asked us to inform the American side about his position," Putin told reporters after more than three hours of talks on a university campus in the Russian port city of Vladivostok. "There are no secrets here. We will discuss this with the Americans and our Chinese partners," Putin said before leaving for Beijing.
Kim laid flowers at a memorial for Soviet soldiers killed in World War II and met with local officials before departing Vladivostok Friday afternoon.
For Putin, hosting Kim gave him a chance to remain a player in a security dispute shaped mainly by the U.S. and China. The Russian leader accepted Kim's invitation to visit Pyongyang "at a convenient time," KCNA said.
"Kim Jong Un said that the situation on the Korean peninsula and the region is now at a standstill and has reached a critical point where it may return to its original state as the U.S. took an unilateral attitude in bad faith at the recent second DPRK-U.S. summit talks," KCNA said, referring to North Korea's formal name. "Peace and security on the Korean peninsula will entirely depend on the U.S. future attitude, and the DPRK will gird itself for every possible situation."
Kim had told North Korea's parliament in a speech this month that he would wait until the end of the year for the U.S. to change its position. While that means more time under punishing international sanctions, it also gives Kim space to continue developing his nuclear weapons program.
Meanwhile, the U.S. rejected a 2017 North Korea request for payment before the release of detained American student Otto Warmbier, a person familiar with the matter told Bloomberg News on Thursday. Earlier, the Washington Post had reported that North Korea presented the U.S. with a $2 million medical bill before allowing Warmbier to be flown to the U.S., where he later died.
The Russian trip advanced Kim's efforts to break his country's isolation. After ruling for six years without leaving home, he's visited five nations since his rapprochement with Trump, including China, Russia, Singapore, Vietnam and a short walk over the South Korean border.
Neither side released details of what was discussed at the Vladivostok meetings, which appeared cordial. Putin said he shares the U.S. desire to see full denuclearization, but added that North Korea would need security guarantees, most likely international, to protect its sovereignty. He said a return to six-party talks, an arrangement that included Russia and Japan, as well as China, the U.S. and the two Koreas, could be useful for that.
Putin suggested a compromise could be possible on North Korean migrant workers in Russia, an important source of income for the Pyongyang government that's due to be cut off at the end of this year under UN sanctions. He didn't elaborate, however.
KCNA said the two leader discussed "boosting high-level visits including top-level meeting and contact and developing cooperation, exchange and collaboration between the governments, parliaments, regions and organizations of the two countries in various forms." The talks were conducted in a "unreserved and friendly atmosphere," the news agency said.