Norges Bank to Drop Hints on Timing of Rate Hike: Decision Guide
(Bloomberg) -- Norway's central bank is about to provide more clues as to whether it will become the rich world's most hawkish central bank, as policy makers in Oslo weigh the risk of a new wave of the pandemic against the prospect of an economic rebound driven by record stimulus measures.
All economists surveyed by Bloomberg expect Norges Bank's policy makers to keep the benchmark deposit rate at zero for an 11th month on Thursday. Attention will instead be on the timing of a future rate hike, amid speculation Norges Bank may move earlier than its official forecast for early 2022.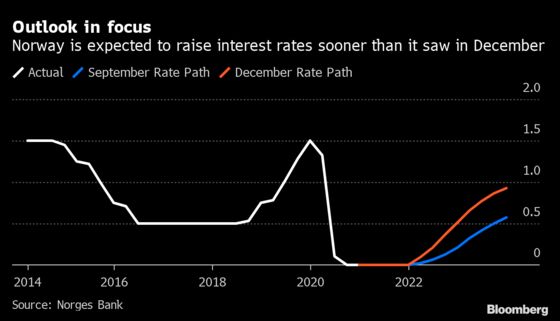 Norges Bank needs to balance "short-term weakness versus long-term optimism when deciding on its new rate path," SEB strategists Lina Fransson and Karl Steiner wrote in a research note. Policy makers will probably be "more positive on the outlook," which will "spill over to a more hawkish rate outlook," they said.
What Bloomberg's Economists Say...
"Positive news flow on the country's vaccination program as well as growth and inflation will probably lead policy makers to lift their projections for the rate path. We expect it will pencil in the first hike for 4Q21, instead of 1Q22. The central bank may also signal some likelihood of an earlier move."

--Johanna Jeansson. Read her NORWAY PREVIEW
The resilience of Norway's oil-rich economy in the face of the pandemic has given Norges Bank a special status in the rich world. It's long been assumed that Norway will tighten policy before its peers, in part thanks to unprecedented fiscal stimulus backed by the world's biggest sovereign wealth fund. But more recently some analysts have started betting on two rate hikes this year.
A third wave of Covid-19, however, has forced stricter containment measures in Norway, which is also among nations that have suspended the use of AstraZeneca's vaccine. That threatens to delay immunization plans and hamper a recovery.
The economy of Norway, the Nordic region's richest nation, ended 2020 just 1.4% smaller than before the crisis, significantly outperforming much of the rest of Europe during the pandemic. Norway's finance ministry expects growth this year of 3.7%, followed by 3.6% in 2022, according to its baseline scenario.
Unemployment may remain higher than pre-pandemic levels even in 2022, but Finance Minister Jan Tore Sanner said a key worry is Norway's soaring house prices. It's a concern that central bank Governor Oystein Olsen has also voiced. Meanwhile, underlying inflation has exceeded Norges Bank's 2% target for the past year, and was 2.7% in February.