Norway Slashes Rates, Sweden Props Up Banks to Fight Virus
Nordic central banks joined a global wave of emergency stimulus as they race to protect their trade-reliant economies from the fallout of the coronavirus pandemic.
Norway delivered a half-point cut to its main interest rate and signaled more will come, while Sweden's Riksbank is lending just over $50 billion to the country's banks to stave off a credit crunch.
"These are not normal times," said Norges Bank Governor Oystein Olsen. "Nothing can be ruled out."
"Sweden and Norway both face a trade-related slump plus a hit to domestic demand from their own virus outbreaks," said Johanna Jeansson of Bloomberg Economics. "We expect today's emergency measures will be followed by more central bank action in the form of rate cuts in Norway and bond purchases in Sweden. But primarily, it will be governments that will have to shoulder the responsibility this time."
The Norwegian krone, which had suffered a dramatic sell-off earlier in the week, rebounded after the central bank announced its support measures, gaining as much as 2.9% against the euro. But the exchange rate remains historically weak. Sweden's krona rose as much as 1.3% on the back of the measures unveiled on Friday.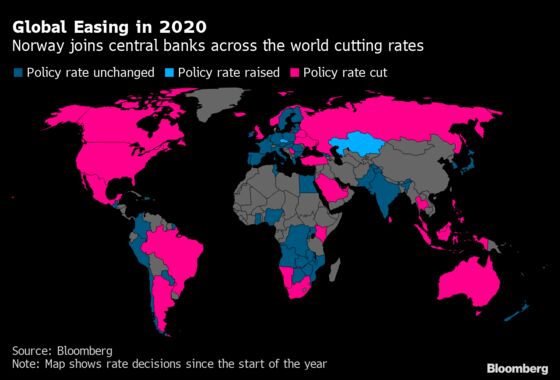 Policy makers across the globe are digging through their toolboxes to deliver crisis support to their economies. The Federal Reserve slashed its main rate by a half point on March 3, and was soon followed by others including the Bank of England. The European Central Bank opted not to cut its main rate, choosing instead to add liquidity.
"A lower policy rate cannot prevent the coronavirus outbreak from having a substantial impact on the Norwegian economy, but it could dampen the downturn and mitigate the risk of more persistent effects on output and employment," Oslo-based Norges Bank said on Friday. The bank wasn't due to make its next monetary policy announcement until March 19. That has now been canceled, and policy makers are scheduled to publish their next decision on May 7.
In addition to its rate cut to 1% from 1.5%, Norges Bank said it "is monitoring developments closely and is prepared to make further rate cuts."
In measures specifically targeting banks, Norway will also cut the so-called countercyclical capital buffer to 1% from 2.5%, to encourage the industry to keep lending to businesses. Sweden cut the same capital requirement to zero from 2.5%, potentially boosting the country's lending capacity by more than $90 billion, the financial regulator said on Friday.
Policy makers in Norway, western Europe's biggest petroleum nation, face the added threat of an oil price slump. Olsen made clear that he will add as much support into the economy as is needed as analysts warn of the risk of the first recession since 2008.
In Sweden, the Riksbank said it's "ready and prepared to take further measures and to supply necessary liquidity, even between the ordinary monetary policy meetings."
These measures "are going to be needed as the probability for a recession is getting high not to mention deflation risks," said Danske Bank's chief economist in Sweden, Michael Grahn.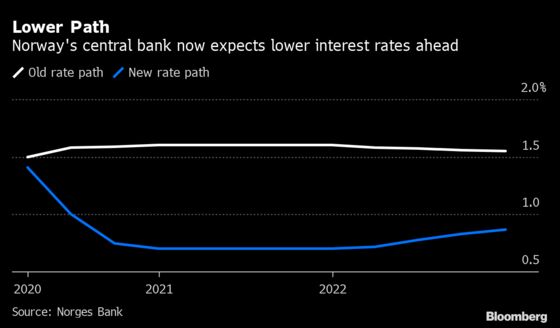 The number of coronavirus cases in the Nordic region has topped 2,000 prompting school shutdowns and the closure of borders to travelers from the hardest hit countries. Companies have started cutting their profit forecasts as the effect of the pandemic drags down global commerce.
As recently as the second half of last year, Norway's central bank was raising rates to help steer the economy's growth. The nation's vast oil riches, which have helped build a $1 trillion wealth fund, have generally helped Norway weather most storms. But policy makers say it remains unclear what effect the current crisis will have.
Sweden's central bank ended half a decade of negative rates in December and has signaled some reluctance to go back below zero. But economists increasingly warn it may have little choice.