Nordics Return to Pre-Crisis GDP Levels on Spending Recovery
Nordic economies have returned to their pre-pandemic economic activity levels, except for tourism-dependent Iceland.
The development vindicates organizations including the World Economic Forum that said last year the region's societal model has made it "the most promising" in charting a sustainable path out of the crisis.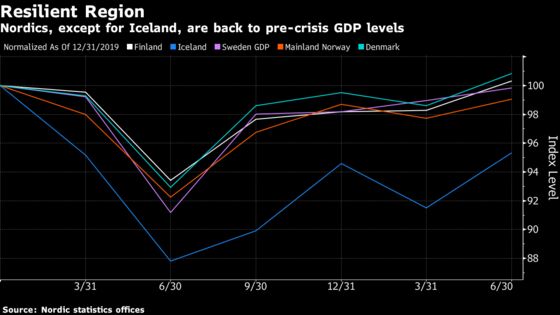 The four largest Nordic nations have withstood the pandemic's economic impact better than much of the rest of Europe, thanks to generous social safety nets, widespread digitalization and a relatively low reliance on tourism. 
That's despite divergent approaches to lockdown restrictions throughout the crisis, with Sweden in particular keeping its economy as open to business as possible. The rebound seen across the region is largely driven by consumption.
Finland's gross domestic product grew a seasonally adjusted 2.1% in the second quarter from the prior three-month period, slightly above the flash estimate, while Denmark's economy expanded 2.3%, data from the national statistics offices showed on Tuesday.
Norway's statistics office said earlier this month the economy is "back at about the same level as February 2020, before the pandemic fully reached" the country, though its second-quarter GDP is still slightly below the level seen in the first three months of 2020. 
While Iceland's GDP rose 4.2% in the second quarter, the north Atlantic island's contraction last year was deeper than in any of its peers, meaning it is clearly trailing the recovery in the rest of the region.
The Nordic economies are expected to grow a combined 3.7% this year and next, SEB said on Tuesday, raising its 2021 forecast from 3.5% seen in May. This compares with a 2.2% contraction last year. 
"The relative resilience of the Nordic economies is clearly visible," SEB said. GDP growth in Sweden, the largest Nordic economy, will return to its historical trend in the middle of 2022, it added.