No Date Set for U.S.-China 'Phase Two' Talks, Lighthizer Says
(Bloomberg) -- No date has been set so far for the U.S. and China to kick off "phase two" trade talks, said U.S. Trade Representative Robert Lighthizer, contradicting a suggestion by President Donald Trump that negotiations would start right away.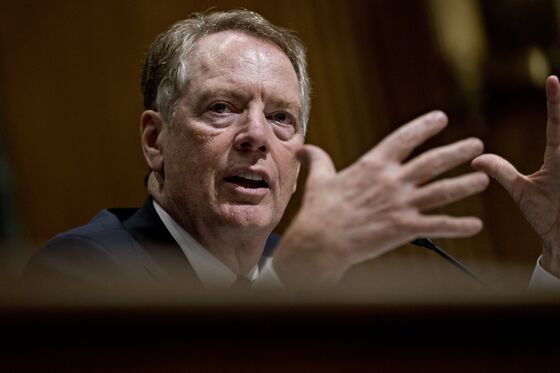 For now, the two sides are focused on implementing the agreement reached on Friday, which is expected to be signed in January, he said. The pact will see the U.S. reduce tariffs on imports from China. Beijing promises to significantly increase purchases of U.S. farm goods and adhere to new commitments on intellectual property, forced technology transfer and currency.
Trump tweeted Friday that the second phase of talks would start "immediately, rather than waiting until after the 2020 Election."
In an interview taped Saturday and broadcast Sunday on CBS News' "Face the Nation," Lighthizer said "the second, phase two, is going to be determined also by how we implement phase one." The first part of the agreement will be implemented "right down to every detail," he said.
Lighthizer said of the deal reached so far: "It really is a remarkable agreement, but it's not going to solve all the problems."
Changing the U.S.-China trade paradigm "was always going to be in phases," Lighthizer said. "The question was, how big -- how big was the first phase going to be. This is going to take years. We're not going to resolve these differences very quickly."