Some Nations May Already See Hong Kong as 'Just Another Chinese City'
(Bloomberg) -- Since Hong Kong's return from British rule more than 20 years ago, residents have fretted over the risk of becoming "just another Chinese city." This week, there's evidence some nations already see it that way.
From Australia's decision to block CK Group from buying a local pipeline operator to United Nations criticism of the city's free speech record, Hong Kong has found itself battling perceptions that the line separating it from the mainland has blurred. Until recently, the city's business and political communities were treated as relatively insulated from Beijing's influence.
The shift, if left unchecked, could undermine Hong Kong's economic model, which has depended on a balance of close cultural ties with China and liberal capitalist institutions set up by the British. While Hong Kong remains a regional hub for hundreds of multinational companies, it's clear Western nations are beginning to approach it more cautiously.
"What we are starting to see now is greater perspective and understanding about how Hong Kong fits into the broader China relationship," said Simon Henderson, a spokesperson for the Hong Kong United Nations Universal Period Review Coalition. "Foreign governments are starting to wake up."
Australia's move to knock back CK Group's A$13 billion ($9.4 billion) bid for APA Group was particularly ominous for the global financial center. Treasurer Josh Frydenberg found having more gas pipelines in foreign hands would be contrary to the national interest, a decision that followed a torrent of criticism claiming that Hong Kong companies were just as susceptible to Beijing's influence as their Chinese brethren.
"You may not have had to worry so much a few years ago," Michael Thawley, former ambassador to the U.S. and senior adviser to ex-Prime Minister Tony Abbott, told the Australian Financial Review in September. "If you read what the Chinese government says about the future administration of Hong Kong and Taiwan in that regard, you have to be careful that governments make a very careful assessment of the pros and cons of these transactions."
The move scuppers what would've been the Hong Kong-based conglomerate's biggest overseas deal, giving it control over the delivery of about half of Australia's gas. The group, which is headed by Victor Li -- son of the city's richest man, Li Ka-shing -- owns local power distributor Duet Group.
The offices of Hong Kong's chief executive and chief secretary didn't immediately respond to emails Thursday seeking a comment on the decision.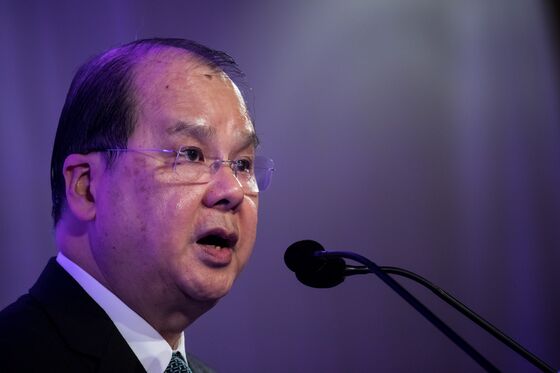 The rejection came days after Hong Kong's No. 2 official, Chief Secretary Matthew Cheung, was forced to defend the city's free speech protections at a UN hearing in Geneva. Member nations had questioned whether the local government was still committed to the rights guaranteed before the "special administrative region" was returned to Chinese rule in 1997.
The questions were prompted by a series of Beijing-backed efforts to restrict dissent since mass pro-democracy demonstrations rocked the city four years ago. Booksellers who published works critical of the Communist Party have disappeared from local streets. And lawmakers have been ousted for voicing separatist views.
Hong Kong authorities denied a Financial Times editor's entry into the city Thursday, weeks after refusing to extend his work visa with no explanation, the newspaper said. Victor Mallet had presided over an August talk by a pro-independence activist while acting president of the city's foreign journalists' club. The move came the day after the Chinese-born author of a novel satirizing one of Xi's signature slogans said he was barred from speaking at the main venue of the Hong Kong International Literary Festival.
The incidents have fanned concern that Chinese President Xi Jinping -- emboldened by economic might and political turmoil in the West -- is less committed to Hong Kong's freedoms, independent courts and capitalist markets. On the mainland, Xi has overseen crackdowns on rights lawyers, a vast expansion of internet censorship and the detention of potentially hundreds of thousands of ethnic Uighur Muslims.
Peter Jennings, the executive director of the Canberra-based Australian Strategic Policy Institute, argued in a June article for the Weekend Australian that China intends to exercise its influence in Hong Kong.
"Hong Kong is trying desperately to hang on to some believable shreds of autonomy as a 'special administrative region of the People's Republic of China,'" Jennings said. "But it is clear that Beijing has no intention of allowing that autonomy to compromise its control of the territory and of the people and businesses that reside there."