New Zealand to Fast-Track Infra Spending Amid Flagging Growth
(Bloomberg) -- Explore what's moving the global economy in the new season of the Stephanomics podcast. Subscribe via Apple Podcast, Spotify or Pocket Cast.
New Zealand will bring forward major infrastructure investments to "future proof" an economy that has seen growth rates slow in recent years.
Finance Minister Grant Robertson said he had directed the Treasury department to present a package of projects to be added to the government's pipeline of short and medium-term investments. The size of the package will be outlined in a budget policy statement on Dec. 11.
"We are still finalizing the full list of specific projects but they will be spread across the country and will support a number of different sectors," Robertson said in a statement Saturday. "It makes sense to take advantage of this low debt and record low interest rates to make investments now to benefit generations to come."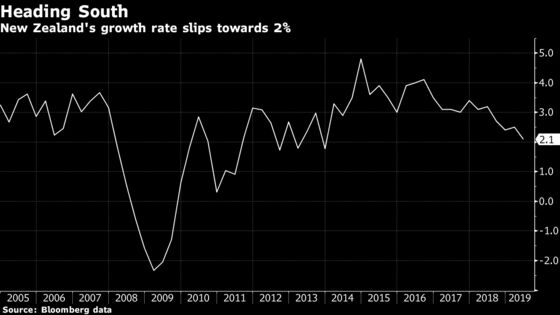 The Reserve Bank of New Zealand has lowered its benchmark interest rate to a record 1%, including a 50 basis point cut in August, to help revive an economy that has struggled as subdued business confidence damped hiring and investment. Still, the bank defied expectations of a further reduction in November, saying there were signs growth and inflation will pick up.