New Zealand Economic Growth Slows to More Than Five-Year Low
(Bloomberg) -- New Zealand's economy grew at the slowest pace in more than five years in the second quarter, giving the central bank scope to cut interest rates again.
Gross domestic product rose 2.1% from a year earlier, slowing from 2.5% in the first quarter and the weakest annual growth since the fourth quarter of 2013
GDP climbed 0.5% from the previous three-month period, Statistics New Zealand said Thursday in Wellington, versus an expected 0.4%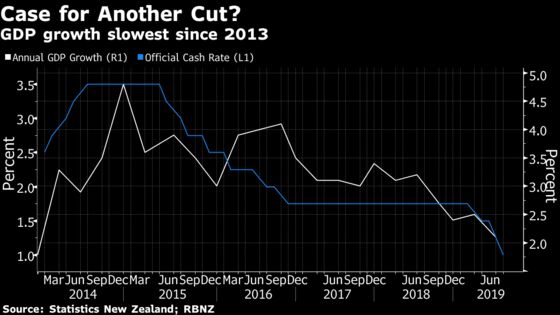 Slowing growth justifies the Reserve Bank's decision in August to slash the official cash rate to a record-low 1% as a global slowdown and weak business confidence impact inflation and job creation. While the central bank expects low borrowing costs and more government spending to stimulate demand, most economists tip one more rate cut before the end of 2019.
"Subdued business confidence, signs that consumers are hunkering down rather than opening their wallets, and the weaker global economic outlook suggest that the economy will struggle to regather momentum," said Mark Smith, senior economist at ASB Bank in Auckland. "We expect at least one further OCR cut in November with the risk the OCR moves lower over 2020."
The kiwi dollar rose after the report before retracing to be little changed. There's an 80% chance of a rate cut in November and just 16% for a reduction this month, according to swaps data compiled by Bloomberg.
What Bloomberg's Economists Say

"We don't expect a rate cut from the central bank next week. The RBNZ's 75 bps of easing this year has already helped set the New Zealand dollar on a weaker course against trading partners and will support domestic demand in the second half. Future easing, though, cannot be ruled out later in the year."

--Tamara Mast Henderson, Economist
Click here for the full report
New Zealand's quarterly growth matched the 0.5% projected by the RBNZ in its August policy statement and was led by household spending, farm production and services. The central bank expects annual growth will accelerate to more than 3% by early next year.
Service industries growth rebounded after posting the slowest quarterly expansion since 2012 in the first quarter
Output from farming and forestry increased for the first time in three quarters
Manufacturing was led lower by food and beverage production; construction and non-residential building investment also fell
Household spending rose at a faster pace, led by purchases of durable goods and services
Exports fell, led by dairy and meat shipments
GDP per capita grew 0.2% from the first quarter