New Zealand Inflation Slows as Virus Lockdown Stalls Economy
(Bloomberg) -- New Zealand inflation slowed in the second quarter, falling toward the low-end of the central bank's target range, amid a collapse in the global oil price and a stalling economy due to the Covid-19 lockdown.
Consumer prices rose 1.5% from a year earlier, Statistics New Zealand said Thursday in Wellington. That compared with 2.5% in the first quarter, but was faster than the 1.3% expected by economists. Prices fell 0.5% from three months earlier -- the first quarterly decline since 2015.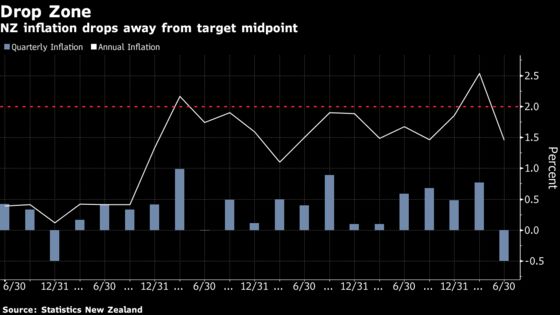 Inflation is set to further slow as the recession curbs demand and rising unemployment puts downward pressure on wages and consumer spending. The Reserve Bank's baseline scenario outlined in its May policy statement projected inflation would slow to 0.3% by the end of the year. The central bank has signaled it will review in August whether its NZ$60 billion ($39 billion) quantitative easing program is providing enough stimulus to achieve the 1%-3% inflation target.
"The Reserve Bank will need to keep monetary settings loose for a long period," said Michael Gordon, senior economist at Westpac Banking Corp in Auckland. "Weak demand will trump supply-side disruptions over the medium term -- leading to lower inflation pressures -- and the economy is likely to remain below full employment for years to come."
The New Zealand dollar was little changed after the report, buying 65.77 U.S. cents at 11:25 a.m. in Wellington
The statistics agency said the nationwide lockdown -- that ended May 13 -- created a lot of volatility and made price measurement more difficult. A rent freeze and the decision to make all public transport free were among the distortions the agency had to adjust for, it said.
The quarterly decline in prices was led by gasoline, which fell 12% from the first quarter -- the largest drop since 2008, the agency said. Domestic accommodation tumbled 14% in the quarter, coinciding with travel restrictions and New Zealand's closed international borders.
Consumer prices excluding food, fuel and energy rose 1.9% from a year earlier, slowing from 2.3% in the first quarter, while other measures of underlying inflation were softer. The RBNZ publishes its own core measure later Thursday
Tradables prices fell 0.6% from a year earlier, led by cheaper fuel
Non-tradable prices, which are less influenced by the currency, rose 3.1% from a year earlier, led by rents and tobacco tax impacts