New Zealand Avoids Recession as Economic Growth Surges
(Bloomberg) -- New Zealand's economy avoided a double-dip recession as growth surged at three times the pace forecast by economists in the first quarter.
Gross domestic product jumped 1.6% from the fourth quarter, when it fell 1%, Statistics New Zealand said Thursday in Wellington. Economists forecast a 0.5% gain. From a year earlier, the economy expanded 2.4% against expectations of 0.9% growth.
A booming property market and fiscal and monetary stimulus are helping the economy to cope with the closed border, which has decimated the key tourism industry. The central bank signaled last month that it may start to raise the official cash rate in the second half of next year, and some economists expect it to act sooner as inflation pressures build.
"Stronger than expected domestic demand coupled with growing cost pressures are a potent mix for inflation," said Jane Turner, senior economist at ASB Bank in Auckland. "We currently expect the RBNZ to start normalizing interest rates in May 2022, but risks are now very firmly skewed to an earlier move."
The New Zealand dollar rose after the report. It bought 70.70 U.S. cents at 11.21 a.m. in Wellington, up from 70.60 cents.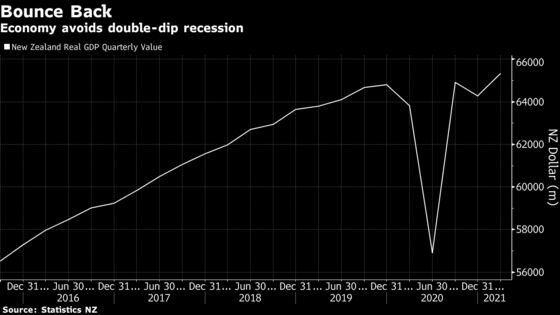 New Zealand's success in containing Covid-19 allowed its economy to stage a V-shaped recovery. The unemployment rate fell to 4.7% in the first quarter after peaking at 5.2% last year, well below predictions at the outset of the pandemic.
In its May monetary policy statement, the Reserve Bank forecast the economy would contract in the first quarter, putting it back into recession. It also said inflation pressures emanating from current goods and labor shortages will prove to be transitory, allowing it to keep its official cash rate at a record-low 0.25% until the third quarter of next year.
Some economists are warning the economy -- and inflation -- may be stronger than the RBNZ anticipates, and are tipping a rate rise in the second quarter of 2022. Investors are now pricing an 84% chance of a rate hike in May, up from 60% before the GDP report.
The RBNZ appears likely to be in the vanguard of policy normalization in the wake of the pandemic. The Federal Reserve overnight released forecasts showing it anticipates two interest-rate increases by the end of 2023.
The first-quarter expansion was driven by a rise in construction, farm output and services such as wholesale trade and real estate, the statistics agency said.
Construction made the biggest contribution to growth, rising 6.6% from the fourth quarter
Manufacturing output gained 1%; farm and forestry production rose 1.1%
Household consumption increased 5.5%, led by purchases of accommodation, restaurant meals and vehicles
Investment gained 6.4%
Exports fell 8%, reflecting less tourist spending, while imports increased 7.1%
GDP per capita rose 1.5% from the fourth quarter