New Year Beckons With Emerging Markets Cool on Trade, Politics
(Bloomberg) -- Emerging markets are headed into 2020 on a high note even if the U.S.-China trade talks remain a nagging risk for investors.
With the new decade looming, the average yield on developing-nation local-currency bonds is close to an all-time low of 4.12%, while stocks and currencies are at their highest levels since June 2018, underscoring how expectations Washington and Beijing will sign a phase-one trade deal in early January are lifting global sentiment.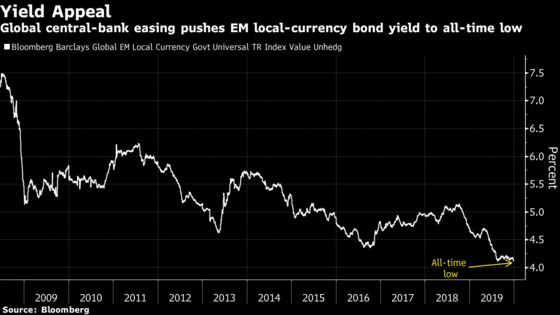 "We are positioned for risk to trade positively over the next few weeks," said Damien Loh, the chief investment officer of macro hedge fund Ensemble Capital in Singapore, declining to specify his own wagers. "With most of the major geopolitical events behind us for now, we should see a recovery in economic numbers globally. The dollar should weaken broadly as well."
Developing-nation equity funds attracted inflows for a 10th week in the five days through Dec. 25, with the bulk of the money going into Asia, according to EPFR Global.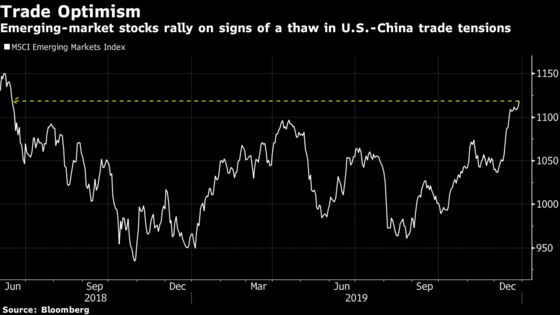 Here's what investors will be watching this week:
There are many details on the phase-one trade deal that remain unclear, including the precise extent of China's commitment to agricultural purchases and what's expected with regards to its intellectual-property theft crackdown
There will also be interest in any new tariff exemptions that are issued –- and the extent to which they cover items such as soybeans and LNG
Goldman Sachs Group Inc. doesn't expect the White House to impose a "meaningful further increase" in tariff rates with the U.S. elections looming, economists including Jan Hatzius wrote in a report. The latest deal "should mark the end of the trade war escalation"
Markets will also be looking at the timing and extent of China's mooted broad-based and targeted reserve requirement ratio cuts. Premier Li Keqiang recently flagged that an effort to direct more liquidity to the nation's lenders would occur in the New Year.
South Korea's industrial production fell 0.3% in November from the previous year. Production has contracted over 2019, and might only register consistent growth in 2020

The country's December inflation data will be released on Tuesday. Both headline and core figures are forecast to remain significantly below Bank of Korea's 2% target, as has been the case all year. Exports probably contracted further in December, data scheduled to be released on Jan. 1 may show, despite encouraging 20-day figures
Read: Won Storms Through the Pack as Trade Deal Revives 2019 Laggard

Thailand's current-account surplus widened to $3.38 billion in November, more than what economists had forecast.

Read: Traders Leave Thai Central Bank With a Headache as Baht Jumps
Inflation statistics are due on Thursday. Both headline and core are expected to remain below the target range

China's official manufacturing PMI for December, due on Tuesday, is forecast to show continued but marginal expansion, after recovering from the October trough. Non-manufacturing PMI will probably remain strong, based on a Bloomberg survey of economists

Read more: China's Economy Picked Up in December, Early Indicators Show

Asia's Markit PMIs will probably on average remain in slight expansion territory, picking up from mid-year troughs. Numbers will be released on Thursday. China, the Philippines and India are likely to register continued expansion
Philippine CPI is due on Thursday or Friday. The figure is expected to climb to the lower bound of the central bank's target range
Chile will release a series of economic reports that will be scrutinized by traders who have lifted the currency from record lows. Industrial production on Tuesday and the economic activity index on Thursday may indicate how the country's worst social unrest in decades impacted the economy in November. The nation will also publish the unemployment rate in the three months through November and copper production
Brazil's registered a 15.3 billion reais ($3.8 billions) primary deficit in November, compared with a 9.4 billion reais surplus in previous month
Mexico will release budget balance figures and Peru will publish Lima inflation numbers