Neuberger Berman Keeps High-Yield Turkish Bank Dollar Debt
(Bloomberg) -- Neuberger Berman is shrugging off concerns about Turkey, choosing to stay with its investments in the dollar bonds of the nation's banks among its holdings of high-yield debt.
While the crisis in Turkey has unnerved investors and sent the lira tumbling, the asset manager hasn't cut exposure to corporate debt in Turkey in the last few weeks, according to Vivek Bommi, a senior portfolio manager at the firm that oversees $304 billion in assets. The investments make up a small portion of the fund's holdings, London-based Bommi said in an interview.
"You see a lot of headlines on the country itself, but underlying corporates and banks we're invested in are doing quite well," he said from Brisbane, Australia. "There could be opportunities to invest in more."
The Turkish lira has been in free-fall against the dollar this year amid a spat with the U.S. that's seen many investors fleeing the assets of a nation with double-digit inflation, a deepening current-account deficit and policy makers' reluctance to raise interest rates. It's been declining since Monday when markets reopened after public holidays.
Neuberger is tapping demand from Australian investors for as much as A$500 million ($366 million) for the NB Global Corporate Income Trust that can invest in up to 350 corporate bonds rated BBB or below and denominated in dollars, euros or pounds. Australian funds are looking to spread holdings just as the nation's pension pool grows faster than those in the U.K., the U.S. and Japan and is forecast by Deloitte reach $4 trillion by 2025.
"We have an offering which helps Australian investors diversify their fixed-income exposure into a more global product," Bommi said. "This is a product that has had low correlation to local assets and that resonates as well." The trust had raised more than A$250 million before the general offer closes on Sept. 7.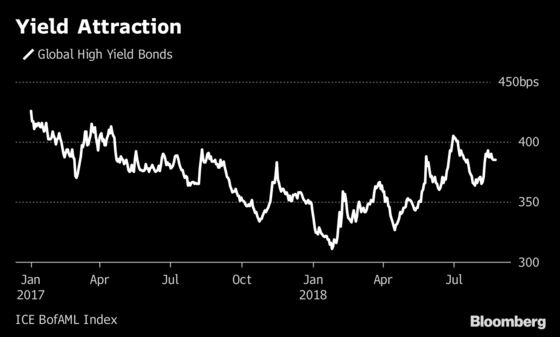 About 20 percent of the assets will be invested in the debt of emerging-market companies whose businesses are focused globally, according to the trust's documents. Neuberger's other global high-yield bond funds are invested in companies such as Turkey's QNB Finansbank, Israel's Teva Pharmaceutical Industries Ltd., Brazil's JBS SA, Mexico's Cemex SAB, China's Wynn Macau Ltd. and Country Garden Holdings Co., Bommi said.
The rest of the trust being offered in Australia will have an allocation of about 20 percent to Europe and the remainder to the U.S.
The asset manager sees opportunities in BB-rated bonds, while it remains underweight automobiles because they are more likely to be impacted by the uncertainty surrounding trade. It is also steering away from retailers more exposed to the threat of technology, he said.
"The impact of rises in rates for a lot of the companies is very minimal," Bommi said. "Interest rates are rising because the economy is doing well and their cashflow in earnings is improving as well."