Leaders Press on Climate, Energy and Covid Vaccines: G-20 Update
(Bloomberg) -- U.S. President Joe Biden pressed for competitive and balanced energy markets to bolster the global recovery from the pandemic as the Group of 20 leaders held summit talks in Rome. 
China's President Xi Jinping urged the meeting via video link to treat all Covid-19 vaccines equally as he pushed for greater mutual recognition of World Health Organization-approved shots. He also lashed out at those he said were politicizing the tracing of the origins of Covid-19 and building "small cliques" based on ideology in tech innovation.
Russian President Vladimir Putin advanced a similar argument on Covid shots in a video address that accused some G-20 members of protectionism on the issue of recognizing vaccine certificates. 
U.K. Prime Minister Boris Johnson prodded Italian Prime Minister Mario Draghi, the summit's host, to do more on Italy's climate-finance commitments during bilateral talks.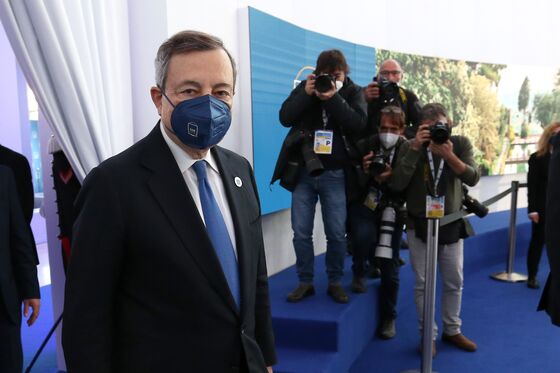 Biden met with French President Emmanuel Macron to ease tensions over a submarine deal involving Australia.
Frictions remain though between Macron and Johnson over Brexit and fishing access.
Tomorrow there is a sideline meeting on supply-chain bottlenecks.
Leaders formally endorsed an ambitious plan to overhaul the way countries tax multinational companies.
Negotiators are racing to reach a climate deal to take to the crucial COP26 summit in Glasgow.
All times are local (CET).
U.S., EU Strike Deal on Steel, Aluminum Tariffs (8.28 p.m.)
The U.S. and the European Union have concluded a trade truce on steel and aluminum that will allow the allies to remove tariffs on more than $10 billion of their exports each year.
Negotiators reached an agreement Saturday as they worked to balance market demands and climate change, U.S. National Security Adviser Jake Sullivan said on the sidelines of the summit. Bloomberg reported earlier that the two sides were on the brink of a deal.
Erdogan to Meet Biden at G-20, May Skip COP26 (7:27 p.m)
Biden will meet Turkish President Recep Tayyip Erdogan on the sidelines of the summit on Sunday, when they'll discuss defense relations and regional issues including Syria and Libya, a senior U.S. official said.
The meeting means Erdogan may skip the COP26 climate gathering in Glasgow next week. He's been eager to see Biden to talk about the fate of $1.4 billion Turkey paid to buy F-35 fighter jets. Washington barred Ankara from purchasing and co-developing the jets after it bought Russian air-defense missiles that NATO allies fear could be used to collect intelligence on the plane's stealth capabilities. 
China Looms Large in U.S.-European Talks (7:01 p.m.)
China has been a prominent topic in Biden's conversations with European leaders at the G-20, a senior U.S. official said Saturday, adding that the talk wasn't about a new Cold War or trying to form some sort of new anti-China bloc. The U.S. sees the new Trade and Technology Council it formed with the EU as a central element of setting the rules of engagement with Beijing.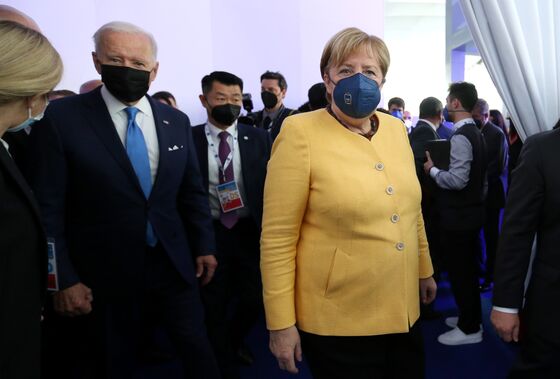 Summit Edges Toward Boosting Health Preparedness (6:16 p.m.)
Countries are in broad agreement on the need to explore ways to strengthen global health governance in order to be better prepared for any future emergency, according to a G-20 official who declined to be named on Saturday's confidential discussions.
That recognition, which includes how to ensure equitable access to health in a future pandemic, will probably find its way into the leaders' final declaration, the official said. There's also broad agreement on the need to support such a structure through financial means.
On climate, the most disputed part of the draft final statement, delegations are consulting with their political masters, the official said.
Yellen Calls G-20 Backing of Global Tax Deal 'Historic' (6:00 p.m.)
The G-20's endorsement of an agreement on new international tax rules including a global minimum tax "will end the damaging race to the bottom on corporate taxation," Treasury Secretary Janet Yellen said in a statement. "It's a critical moment for the U.S. and the global economy."
U.S. and European Leaders Say Iran Deal Still Possible (5:40 p.m.)
Biden and the leaders of Germany, France, and the U.K. said "it remains possible to quickly reach" agreement with Iran to revive a deal over its nuclear program, but warned in a joint statement that Tehran must change course before any relief on sanctions.
After meeting on the sidelines of the G-20, the four leaders said Iran's production of highly enriched uranium and decreased cooperation with international oversight was "alarming." They appealed to Iran's new president, Ebrahim Raisi, to seize the opportunity but offered no details on a timetable.
Biden Pushes G-20 to Improve Energy Supplies (5:15 p.m.)
Biden said global energy markets needed to be well-supplied to avoid undermining the post-pandemic economic recovery. The president said Saturday that markets needed to be balanced and competitive, according to a senior administration official.
Another U.S. official said Friday that Biden would use the meeting to ask energy-producing countries at the G-20 to boost production. 
Rising energy prices are hitting the entire world and "we need to provide lasting solutions that are consistent with the ecological transition underway," Macron tweeted Saturday.
Putin Urges G-20 Recognition of Covid Certificates (3:41 p.m.)
Russia's president called on fellow leaders in a video address to instruct their health ministries to "work out as soon as possible the question of mutual recognition of national vaccine certificates," accusing some G-20 states of indulging in "unfair competition." While he reiterated that Russia had registered the world's first Covid-19 vaccine, its Sputnik V shot still hasn't been recognized by regulators in the EU and the U.S.
U.K. Prods Italy to Go Further on Climate Change (1:22 p.m.)
Johnson encouraged Draghi to go further on Italy's climate-finance commitments to support growth in developing countries during a bilateral meeting today, according to a spokesperson for the U.K. prime minister.
Johnson "expressed his hope that Italy will lead the way in making further commitments on coal, cars and trees in the days ahead," according to the media note.
Italy is expected to double its contribution to the global financial pledge to more than $1 billion, Bloomberg reported earlier.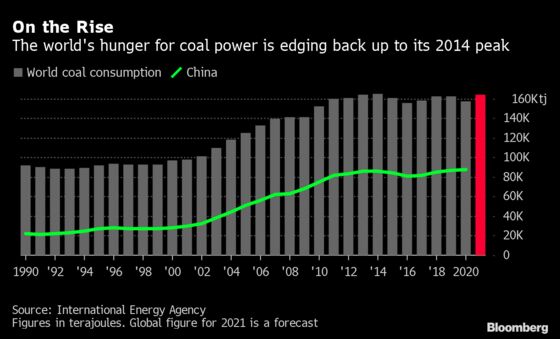 Family Photo Includes Fill-Ins for Leaders (12:05 p.m.)
With leaders from China, Russia, Japan, South Africa and Mexico skipping an in-person appearance at the G-20, organizers of the traditional family photo subbed in the ministers who are representing them in person.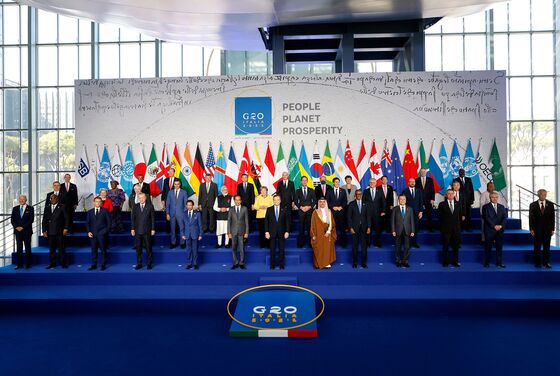 Johnson Says France May Be Breaking Brexit Deal (12:00 p.m.)
Johnson said France may already be violating the post-Brexit trade deal in their latest dispute over fishing access, even as he sought to downplay the row and switch the focus to tackling climate change.
"If there is a breach of the treaty or we think there is a breach of the treaty then we will do what is necessary to protect British interests," he told broadcasters at the Colosseum in Rome. "What I think everybody wants to see is co-operation between the European allies and Emmanuel Macron and I share a common perspective, which is that climate change is a disaster for humanity."
Negotiators Hone In on Energy Price Swings (11:50 a.m.)
The latest communique draft addresses the volatility in global energy markets that sparked a historical surge in gas prices.
"Responding to the current fluctuations in the energy markets, we reaffirm our resolve to ensure stable and uninterrupted supply of energy, including by means of diversification of energy delivery, energy types and sources and markets stability in the context of national circumstances," it says. The reference to "national circumstances" is new and reflects a shift in the discussions toward meeting the concerns of developing countries.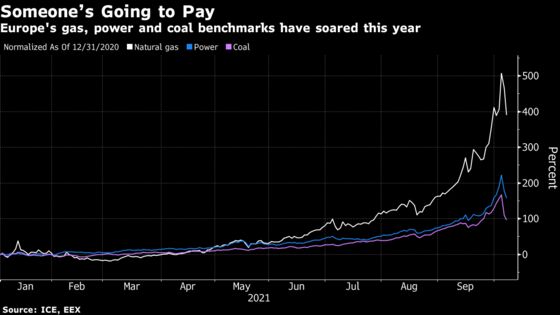 Biden to Hold Talks on Supply-Chain Squeeze (10:58 a.m.)
Biden will host a meeting Sunday on global supply-chain resilience through the pandemic and recovery. The aim is to improve international coordination on all aspects of supply chains, according to the White House. 
A European diplomat told Bloomberg they expected about 15 countries to attend, including a mix of G-20 members and invited guests, with several leaders due to make short interventions. The event will be relevant for work on strengthening the resilience and preparedness for any future health crisis, another EU official said.