Turkey Slows Pace of Easing, Joins Negative Real-Rate Club
Turkey's central bank opted for the smallest interest-rate cut since embarking on an easing cycle under a new governor, balancing demands for lower borrowing costs from President Recep Tayyip Erdogan against the risk of a market backlash.
The Monetary Policy Committee reduced its key rate on Thursday to 11.25% from 12% at this year's first scheduled meeting. Its fifth straight decrease pushed the benchmark below zero, when adjusted for inflation. But with the latest move coming in below most forecasts, the lira appreciated after the decision and was trading 0.4% stronger at 5.8494 against the dollar as of 2:53 p.m. in Istanbul.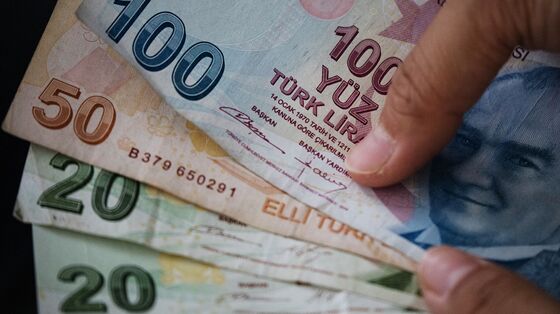 "Considering all factors affecting the inflation outlook, the Committee decided to make a measured cut in the policy rate," the central bank said in a statement. "At this point, the current monetary policy stance remains consistent with the projected disinflation path."
Despite the unprecedented scale of easing under Murat Uysal's watch, the new governor hasn't provoked investors into turning on Turkey while winning praise from Erdogan, who wants lower borrowing costs to rev up the economy.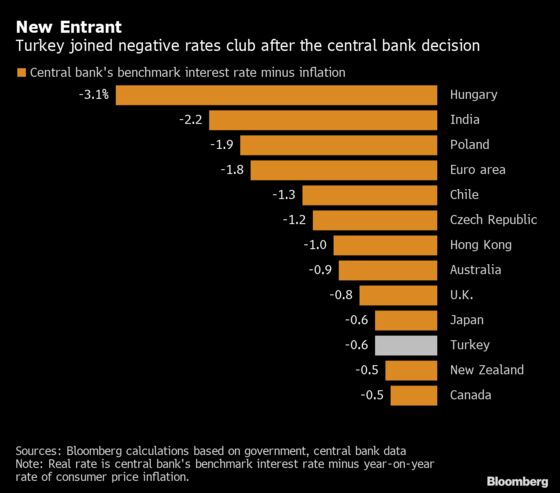 The president, who's repeatedly said that rates will fall below 10% this year, believes higher borrowing costs cause rather than prevent inflation. Most economists and central banks around the world believe the opposite to be true.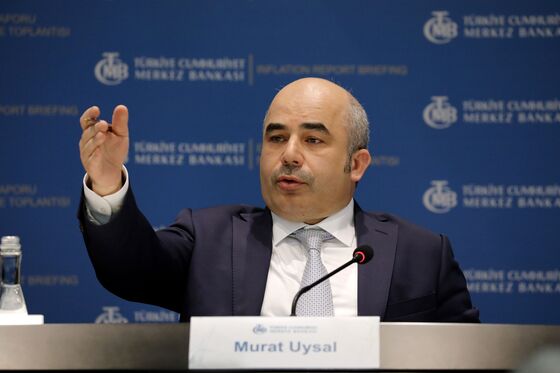 While most analysts surveyed by Bloomberg predicted a cut, expectations ranged widely. The median forecast was for a decrease of 75 basis points. But for the first time since Uysal became governor in July, a sizable minority of economists predicted a hold, after 12 percentage points of easing in the second half of 2019.
What Our Economists Say...
"More easing is likely to come: Erdogan wants interest rates to be in single digits this year, and he'll probably get that barring a meltdown in the currency."

-- Ziad Daoud
Click here to view the piece.
Erdogan's government, which increased its target for growth to 5% for 2020-2022 after slashing last year's forecast to near zero, is relying on cheaper credit to give the economy an extra kick. Emboldened by a more steady lira, the central bank has so far done its part, but the outlook is turning more tentative.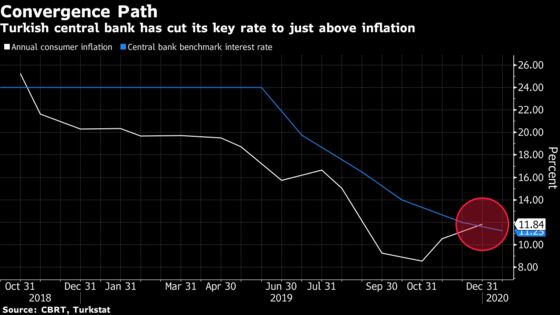 Turkey's annual inflation quickened for a second month in December to 11.8%, and policy makers only expect it to start decelerating toward single digits from the second quarter, before ending the year at 8.2%. Economists predict price growth will average around 10% or higher through the third quarter, according to another Bloomberg survey.
Meanwhile, the Turkish lira is off to one of the best starts among the currencies of developing nations this year. It depreciated over 11% against the dollar in 2019, the worst performance in emerging markets after Argentina's peso.
It's "a smart move" by the central bank to avoid surprising the market with another bigger-than-forecast cut, according to Piotr Matys, a strategist at Rabobank in London.
"This is clearly positive for the lira," he said. "But it doesn't change our long-term bearish view as the Erdogan administration hasn't made progress in implementing urgently required structural reforms."