Trump Meets MBS, Family Fights, Ukraine Statement: G20 Update
(Bloomberg) -- The Group of 20 Summit is on, as world leaders gathered in Argentina to discuss the global economy and security, shadowed by increased tensions stoked by U.S. President Donald Trump's trade war. The highlight promises to be a highly anticipated dinner between Trump and Chinese President Xi Jinping on Saturday, when the two men will discuss de-escalating their battle over trade.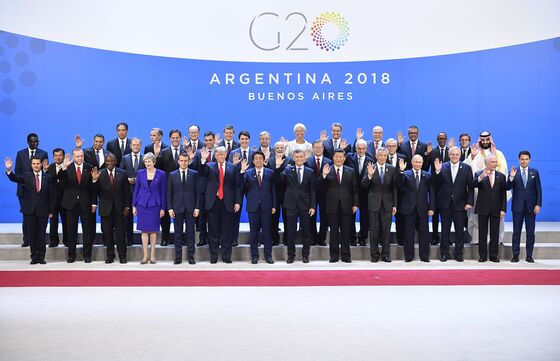 The two-day meeting in Buenos Aires is being closely watched for its unscripted moments, particularly how leaders interact with Saudi Arabian Crown Prince Mohammed bin Salman amid the global outcry over the murder of Saudi critic Jamal Khashoggi.
Here's a running recap of the day's highlights:
Putin, Trump Shake Hands Despite Canceled Meeting (8:25 p.m.)
After canceling their much-anticipated meeting, U.S. President Donald Trump and Russia's Vladimir Putin crossed paths and shook hands at the G-20. It fell short of a formal meeting. Russia is open to a meeting and willing to be "patient," the Kremlin's spokesman said.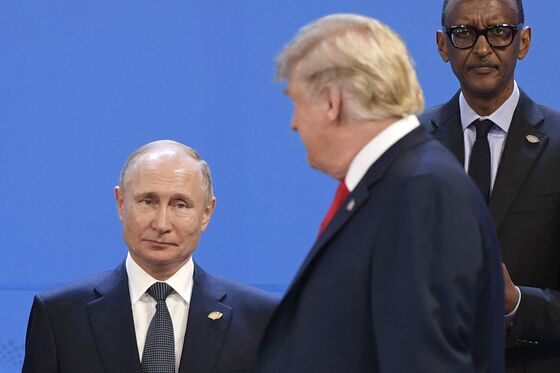 But the lack of a meeting in Buenos Aires increases the likelihood of increased global tensions, according to the Kremlin. Even so, Russia stands ready to talk, the spokesman said.
To fill the time, Putin will meet with Turkish President Recep Tayyip Erdogan at the hour he was to have met Trump.
Xi Talks Up Globalization Before Trump Dinner (8:17 p.m.)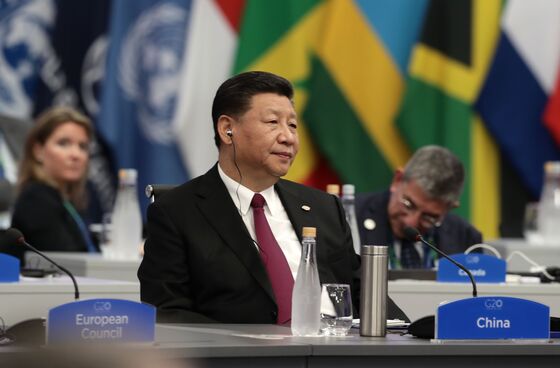 Ahead of his dinner Saturday with U.S. President Donald Trump, China's Xi Jinping spoke in support of the global rules-based order at a G-20 session. Evoking the history of the G-20, he said "we should stay committed to openness and cooperation and uphold the multilateral trading system."
The task, he added, had become more urgent amid risks to global growth. Trump's burgeoning trade war with China has seen Xi become an unlikely champion of the international order, even as the Chinese leader deflects criticism for shielding certain parts of his economy from competition.
Putin Sketches Black Sea Skirmish With Ukraine (7:40 p.m.)
Russian President Vladimir Putin took one of his first steps on Friday to explain his capture of Ukrainian ships and sailors, pulling out pen and paper during a meeting with French President Emmanuel Macron to render a sketch of the Black Sea skirmish, a person familiar with the matter said.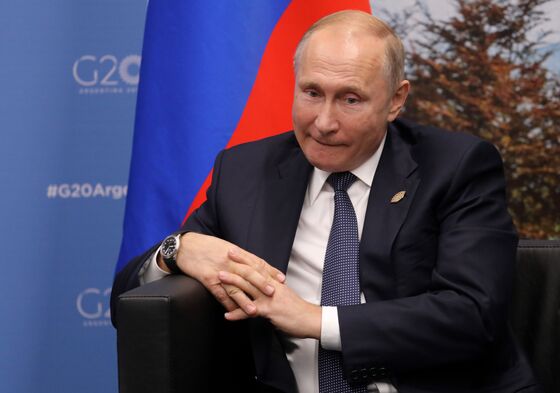 Europe has been highly critical of Putin's actions toward Ukraine -- tensions have been high since Russia annexed Crimea in 2014. On Friday, Putin spent about 10 minutes trying to ease Macron's concerns by drawing a map of the Kerch Strait that connects the Black Sea and the Sea of Azov, a crucial economic route where the military conflict took place Sunday.
Putin drew the Ukrainian boats moving from neutral waters into Russian waters, according to the person, who described the meeting on condition of anonymity. Macron asked the Russian leader to make gestures toward de-escalation and told him that if he has evidence to back up his drawings, he should share it. A Russian spokesman didn't immediately respond to a request for comment.
Sherpas Talking Into the Night (6:30 p.m.)

Negotiators are still working on a statement for leaders to sign from the summit, with the talks expected to last into the night. Despite five days of drafting, differences remain, particularly on trade. In order to get a deal, officials expect the wording to be watered down so that leaders can claim at least to have something. For the latest on the talks:
May Says Saudi Arabia Must Build Confidence (5:30 p.m.)

During a meeting between U.K. Prime Minister Theresa May and Prince Mohammed, May stressed the importance of those responsible for the murder of Jammal Khashoggi are held to account, and that Saudi Arabia takes action to build confidence that such deplorable incident could not happen again.
Putin and Macron Talk About Ukraine (3:25 p.m.)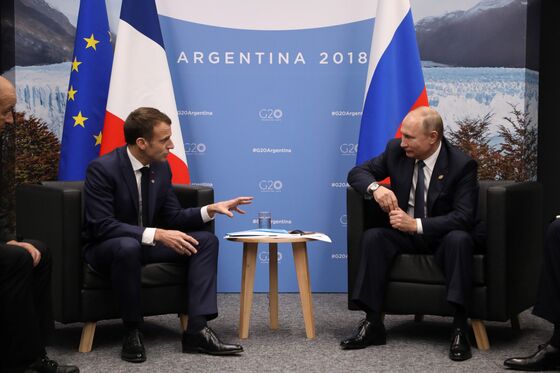 French President Emmanuel Macron and his Russian counterpart Vladimir Putin have held their meeting in Argentina, where they appeared relaxed and chatty. Macron said the two would talk about Syria, where there is a fresh push for a political solution, and also about Ukraine "after what has happened in the past days." That's a reference to Putin's resurgent provocations where his navy recently fired on Ukrainian vessels and then seized some of them. Putin in turn praised Macron's recent hosting of World War 1 commemorations.
Trump Exchanges Pleasantries With MBS (2:42 p.m.)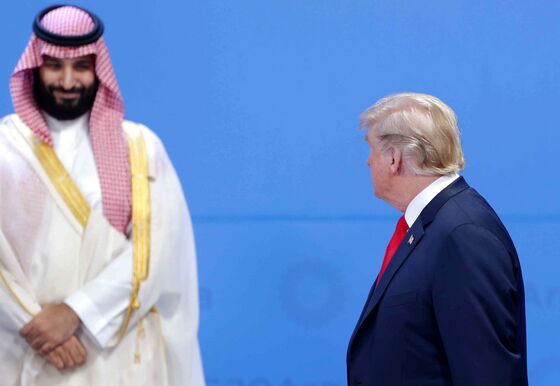 President Donald Trump met briefly with Saudi Crown Prince Mohammed bin Salman, with the two men exchanging pleasantries during a leaders' session, a White House official said. Trump later said "we had no discussion", though he held out the prospect of spending more time with the crown prince. The White House said the meeting took place as the president meets with nearly every other leader present.

Family Fights Begin at the G-20 (1:55 p.m.)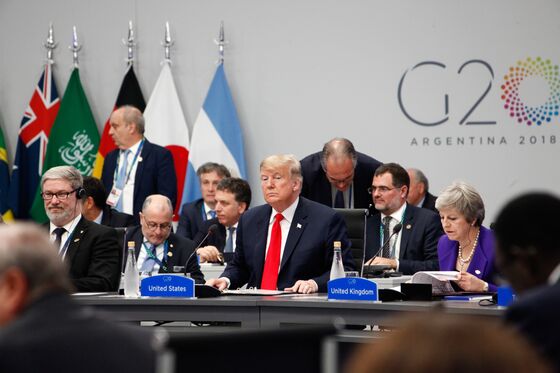 The summit is officially underway, with the traditional family photo and initial plenary session. Behind the scenes, negotiators continue to beaver away to try and get agreement on a communique that all members -- including China and the U.S. -- can sign up to.
The global political fault-lines were on full display as the leaders came together, with all eyes on Prince Mohammed amid a backlash over the killing of critic Jamal Khashoggi last month. Studiously avoiding each other were U.S. President Donald Trump and Russia's Vladimir Putin, after Trump ditched plans for them to meet formally in Argentina.
MBS Gets Some G-20 Meetings (12:08 p.m.)
French President Emmanuel Macron chatted briefly with Saudi Crown Prince Mohammed bin Salman. The two discussed the Saudi-led war in Yemen and the global furor over the killing last month of columnist Jamal Khashoggi at Saudi Arabia's consulate in Istanbul.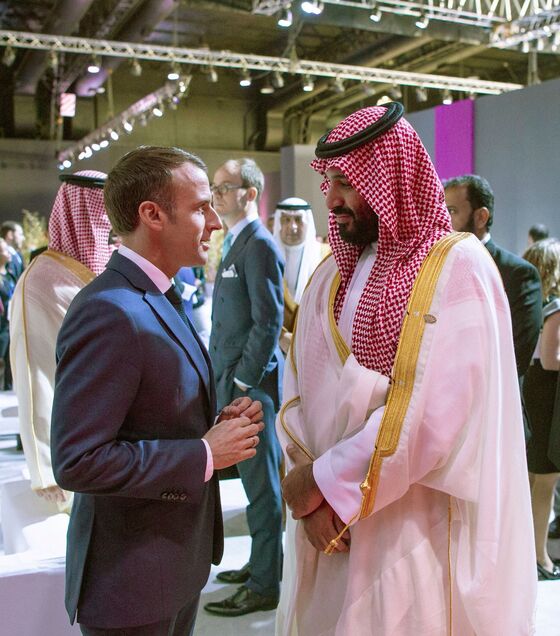 Footage of the interaction carried by Saudi media showed the two standing close together and Macron looking serious and speaking intently, with Prince Mohammed nodding and smiling. At one point he reached out and touched Macron on the arm. A French official said later that Macron had sought firm and frank talks with Prince Mohammed.
U.K. Prime Minister Theresa May is set to have a bilateral meeting with Prince Mohammed later Friday. He met yesterday with Indian Prime Minister Narendra Modi and could yet get time with U.S. President Donald Trump as well as Russian President Vladimir Putin. That's despite the backlash over the killing and subsequent coverup of Khashoggi, who had criticized the prince's policies.
Russia Faulted by G-7 Over Ukrainian Crisis (11:26 a.m.)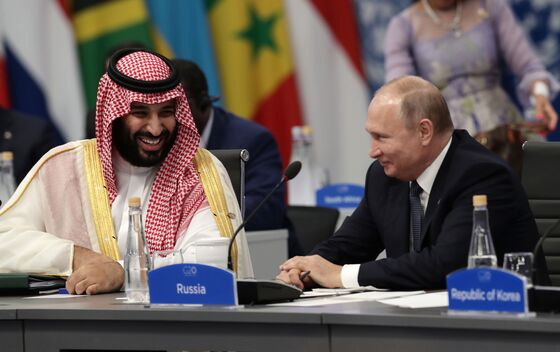 Russia wasn't justified in its use of recent military force against Ukrainian ships, the foreign ministers of Canada, France, Germany, Italy, Japan, the U.K. and U.S. said Friday in joint statement. The nations called on Russia to respect international law, and added they would never recognize Russia's annexation of the 2014 Crimean peninsula.
The resurfacing of tensions over Ukraine was cited by U.S. President Trump for his decision to nix a formal meeting with Russian counterpart Vladimir Putin at the G-20. Still, Russian media is now citing the Kremlin as saying Putin and Trump may yet chat briefly and informally on the sidelines.
Senior economic officials from China and the U.S. are on the ground ahead of the planned meeting Saturday between Trump and Xi.
European leaders met on the sidelines Friday with a focus on defending the global rules-based order.
All of the G-20 leaders are scheduled to meet for dinner at the historic Teatro Colon opera house.
Negotiators continue discussions on a potential communique, after document failures at several recent summits amid wrangling over the wording on trade.
Here's What Happened So Far
The U.S., Canada and Mexico signed a new trade deal championed by President Donald Trump to replace the quarter-century-old Nafta pact, capping a year of intense negotiations and offering a glimmer of certainty amid rising global tensions over trade.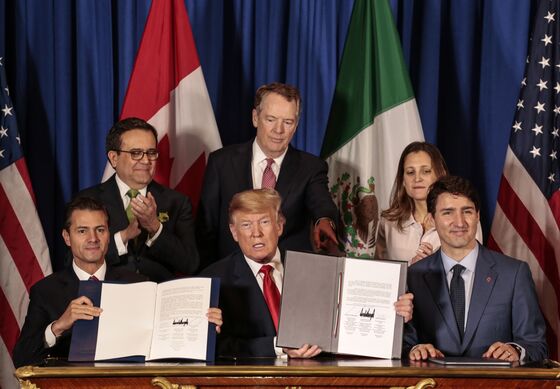 Ahead of Saturday's dinner between the leaders of China and the U.S., U.S. Trade Representative Robert Lighthizer spoke of the rapport he believes President Trump and Xi Jinping share. Asked about the odds of a trade deal being reached at their meeting Lighthizer said: "I would be very surprised if the dinner was not a success, I think it will be successful, the two men like each other."
German Chancellor Angela Merkel's trip to Argentina was delayed after her government plane experienced a serious electrical malfunction following her departure from Berlin on Thursday evening. She's traveling commercially via Madrid and expects to arrive in time for the leaders' dinner, but the delay is clouding plans for her bilateral meetings, including with Trump.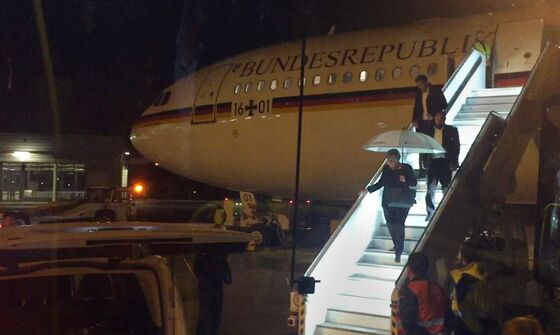 Trump arrived in Buenos Aires on Thursday night, shadowed by news his former personal lawyer admitted lying to Congress about the Trump Organization's pursuit of business in Russia during the 2016 presidential campaign. Early Friday morning, in a tweet sent shortly before meeting with his host, Argentine President Mauricio Macri, Trump defended his business dealings in Russia as "very legal" and said they never resulted in a project. Trump has separately nixed a planned meeting in Argentina with Vladimir Putin.
Prince Mohammed bin Salman is at the G-20, with his every move scrutinized. On Thursday, the prince met with Indian Prime Minister Narendra Modi, though some other world leaders have made clear they have no intention of seeing him in Buenos Aires.