Mulvaney Joins Trump Pushing Fed to Rethink Rate Hike Strategy
(Bloomberg) -- President Donald Trump's budget director is doubling down on the administration's message for the Federal Reserve: There's no need to raise interest rates.
With U.S. growth last quarter beating estimates and inflation contained, White House Budget Director Mick Mulvaney says the latest figures probably "takes pressure off of the Fed to raise rates as they've indicated they want to do."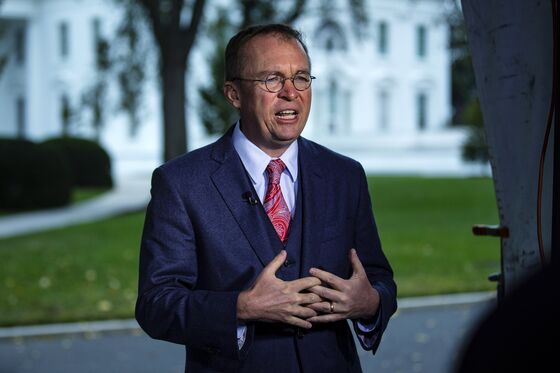 Trump has sharpened his criticism of Fed Chairman Jerome Powell over the central bank's strategy of raising rates gradually to prevent the economy from overheating. Trump has said that the hikes will stifle U.S. economic growth.
The U.S. economy expanded at a 3.5 percent pace in the third quarter as consumers opened their wallets, beating a median estimate of 3.3 percent in a Bloomberg survey. Price data in the report on gross domestic product also showed one gauge of inflation rose at a 1.6 percent annualized pace last quarter, below the Fed's 2 percent goal.
Despite Trump's railing against the Fed, Mulvaney said Friday that he doesn't expect the president will seek to replace Powell.
"We really do feel like we're in that Goldilocks moment where we're getting good GDP growth but we don't have the inflation that you traditionally might have seen with this type of market," Mulvaney said in an interview on Bloomberg Television with Jonathan Ferro.