Here's Why the Australian Dollar Is the Most Volatile Major Currency
(Bloomberg) -- The Australian dollar is showing why it has been the most volatile Group-of-10 currency in the past month, swinging about 1.7 percent just in one day.
This is how Thursday's events unfolded: the Aussie jumped on a surprise beat on jobs data, forcing traders to close short positions. Less than an hour later, it sank when an influential economist at Westpac Banking Corp. said the central bank may cut rates twice. The Aussie got a reprieve on reports that the U.S. and China are nearing a trade deal, only to plunge more than 1 percent when Reuters reported that a Chinese port customs has banned its coal shipments indefinitely.
"There's probably a lot of gut fear that this Dalian story goes beyond pure economics and and there may be worse things to come -- that's just sparked even more volatility in Aussie dollar trading on a day when it's already swung so much," said Kyle Rodda, analyst at IG Group in Melbourne. "This is unlikely to end anytime soon."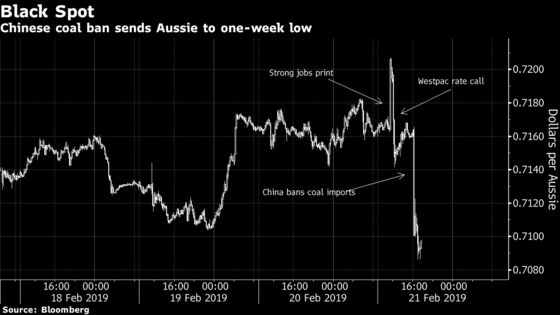 Australia's dollar has been caught in a tug-of-war with competing factors whipsawing a currency sensitive to global economic uncertainties. Hedge funds and speculative investors have ratcheted up bets in both directions amid the ongoing U.S.-China trade war, a dovish turn from the central bank and signs of a reversal in iron ore prices.
The Aussie is down 0.7 percent to 71.14 U.S. cents as at 6:36 p.m. in Sydney, having advanced to a high of 72.07 cents Thursday morning.
For traders, this confluence of factors will only mean more opportunities to trade the Aussie.
"The glide path is lower and lower for the Aussie but with huge, huge swings as you go down," said Michael Every, head of Asia financial markets research at Rabobank in Hong Kong. "With no regulators actively interfering, this will just mean a more volatile currency."