Markets Are Too Complacent About Trade War, Morgan Stanley Wealth Says
(Bloomberg) -- Markets may be too optimistic about the U.S.-China trade dispute, according to Morgan Stanley Wealth Management.
The implied volatility of some assets that should be highly affected by trade news has been declining even as a further deterioration in the negotiations remains a risk, strategists including Scott Helfstein wrote in a note Tuesday.
The "probability of price changes across soybeans, semiconductors and the S&P 500 are all at multi-month lows despite lingering uncertainty around trade negotiations," they wrote. "Markets have cast too much optimism on negotiations or viewed lulls in escalatory rhetoric as positive."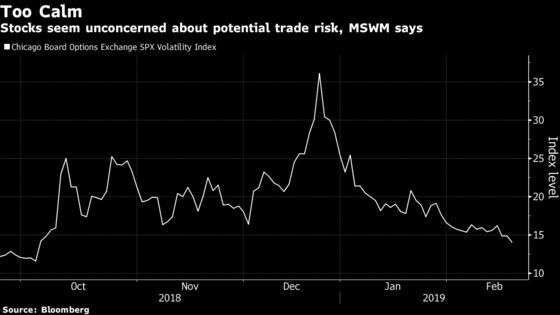 Trade talks between the U.S. and China are back on in Washington this week, and investors are watching closely for signs of progress. Currency policy has entered the discussions, while issues like intellectual property rights and structural factors in the Chinese economy remain potential stumbling blocks.
"Analysis of relative volatility across trade-vulnerable assets suggests that markets are not necessarily concerned with further deterioration in trade relations," the Morgan Stanley team wrote, calling that "a veiled but mounting risk."