Morgan Stanley Upgrades '19 China Stocks Call on Trade Ceasefire
(Bloomberg) -- Morgan Stanley upgraded its already-positive forecast for China's stocks next year after Washington and Beijing put the escalation of trade tariffs on pause.
"A pause, even one that leaves substantial uncertainty, is sufficient for an upgrade to risk assets given how weak investor sentiment on this issue was and how much potential economic degradation was in the price," strategists led by Jonathan Garner in Hong Kong wrote in a note Sunday. "Even if matters escalate again -- a substantial risk -- we think this would help bring about the end-game."
Morgan Stanley had expected the previously scheduled boost to U.S. tariffs on Chinese imports to kick in on Jan. 1. Among its market forecast changes on the weekend news:
The "base case" year-end 2019 target for the MSCI China Index is raised to 82 from 79, implying a gain of more than 8 percent from the close on Friday.
The MSCI China's recommendation boosted to "overweight" from "equal weight" in allocations relative to benchmarks.
Forecast for the Hang Seng Index boosted to 29,850 from 28,500, implying a rise of almost 13 percent from Friday.
Hang Seng China Enterprises Index now seen at 12,100, for a rise of 14 percent.
The domestic CSI 300 Index now seen rising to 3,650, for a gain of 15 percent.
Chinese stocks have fallen into a bear market this year, as a combination of trade tensions and a slowing economy battered investor sentiment. The MSCI China Index is down about 26 percent from its January high, while Hong Kong's Hang Seng Index has fallen 20 percent.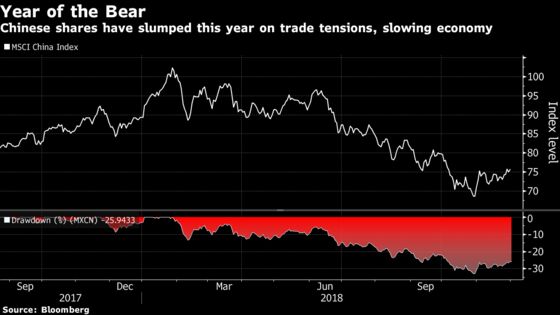 "We've been espousing weak markets as a potential circuit breaker" that would prompt the U.S. and China to resume talks, the strategists wrote. "But this recent string of events surpassed our expectations."