More Bastions of Economic Power Are Escaping Sole Grasp of Men
(Bloomberg) -- In the slow march toward equality over who wields global economic power, 2020 has seen more progress for women storming bastions of hitherto male-only dominance.
Group of 20 finance chief meetings counted just four female top-level participants earlier this year. But that number is set to rise in 2021 with Janet Yellen poised to become the first woman to serve as U.S. Treasury Secretary, and Canada having appointed its first female finance minister, Chrystia Freeland.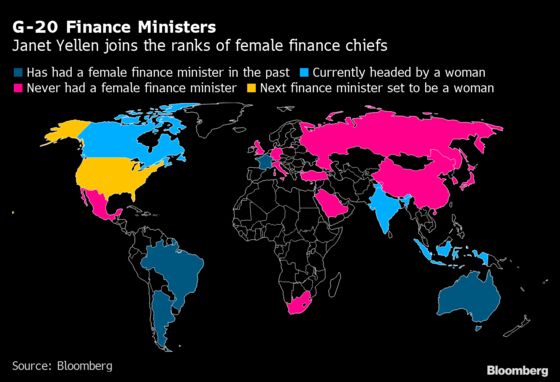 At the international level, there was progress too in ending a history of male-only leadership. France's Odile Renaud-Basso became head of the European Bank for Reconstruction and Development, and the World Trade Organization is on course for its first female chief with a shortlist whittled down to two women.
Economic leadership affecting most of humanity still lies firmly in the hands of men however, an imbalance all the more poignant during an unprecedented global crisis that is consistently leaving women even more worse off than their male counterparts.
There were milestones in 2019 too, with the appointments of Christine Lagarde as European Central Bank president and Nirmala Sitharaman as India's Finance Minister.
But within the G-20, Russia, South Africa, Argentina and the U.S. are the only other examples where women have led central banks, and less than half of member countries have had a female finance minister.
And for all its progress, this year has featured even more missed opportunities.
Within the Group of Seven nations, Rishi Sunak's appointment in February extended men's eight-century hold on the role of U.K. chancellor of the exchequer. Meanwhile the male finance minister of Japan survived a change of government leadership, as did his counterpart in France, where Lagarde previously held the job.
In Europe, Irishman Paschal Donohoe defeated a bid by Spain's Nadia Calvino to become the first female chair of the euro area's group of finance ministers.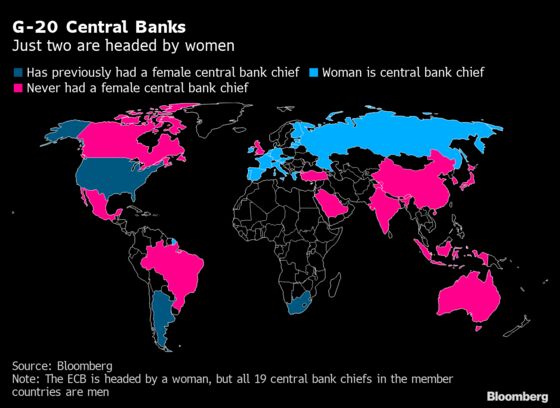 Global central banks had a poor showing. Tiff Macklem won out against Senior Deputy Governor Carolyn Wilkins to be Bank of Canada chief, while Swiss National Bank President Thomas Jordan was reappointed until 2027, extending the exclusively male grip on that role. Similarly, the latest change at the helm of Turkey's central bank again resulted in a man getting the job.
Both of those women, Lagarde and Isabel Schnabel, serve on the six-member Executive Board. That team could have achieved historic gender parity this year with the exit of Yves Mersch, except that governments replaced him with another man.
Similarly, Renaud-Basso's appointment still leaves male leadership at the world's other major regional development banks. U.S. President Donald Trump's candidate, Mauricio Claver-Carone, clinched the helm of the Inter-American Development Bank this year in a fractious contest that saw former Costa Rican President Laura Chinchilla quit the race.
But next year holds the hope of more change as Yellen is poised to take office, the WTO helm is settled, and three women vie to lead the Organization for Economic Cooperation and Development. Colombia may get its first female central bank chief and Canada's new senior deputy governor may also be a woman.
And in the U.S., Federal Reserve Governor Lael Brainard could follow in Yellen's footsteps and become only the second woman to chair the Fed when Jerome Powell's term expires in early 2022.