Month-Late GDP Data to Detail Where the U.S. Economy Is Losing Steam
(Bloomberg) -- After a monthlong delay due to the federal shutdown, data out Thursday will show just how much steam the U.S. economy lost in the fourth quarter -- and what it all means for 2019.
Gross domestic product expanded at a 2.3 percent annualized pace in the fourth quarter following the best back-to-back gains since 2014, according to the median estimate of economists surveyed by Bloomberg ahead of the Commerce Department report. Consumption remained the main driver, easing to a 3 percent increase, and government spending likely aided growth; the other principal categories of business investment, housing, trade and inventories all figure to provide either minor boosts or drags.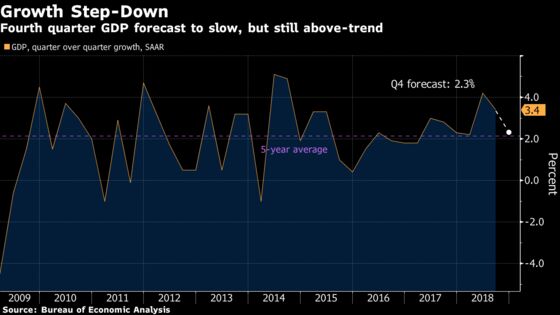 While full-year 2018 growth probably came in near President Donald Trump's 3 percent target, most analysts expect that pace to be short-lived, even as the expansion is on track to become the country's longest on record in July. The bigger question is whether growth will stabilize around its prior trend or is poised to weaken further -- potentially into a recession.
"Consumer spending looks to have been slowing in the fourth quarter, business investment has been slowing since early last year-- those patterns continued in the fourth quarter and we think trade has a lot to do with it," said Samuel Coffin, an economist at UBS Group AG. "The slowing in the fourth quarter is believable -- and the question is how long it lasts."
A report Wednesday showed the U.S. merchandise-trade deficit widened by more than forecast in December to a record, suggesting GDP could come in lower than some analysts were expecting.
Consumer spending, which accounts for most of the economy, is supported by a strong labor market and rising wages, and corporate investment has been buoyed by tax cuts. But that dynamic appeared to sour toward year-end.
While the outlook remains favorable, the economy is feeling crosswinds from slowing global growth and uncertainty over trade, Federal Reserve Chairman Jerome Powell said in Senate testimony Tuesday.
What Our Economists Say...
To be sure, the economy stumbled at the end of 2018 as financial market turbulence destabilized confidence among both businesses and households. However, this impact is not likely to be sustained, given the subsequent improvement in market conditions. The resilience in the pace of job creation over the past several months underscores the underlying resilience of broader growth momentum.

-- Carl Riccadonna, Yelena Shulyatyeva and Tim Mahedy, Bloomberg Economics 
There were signs of weakness near the end of 2018. December retail sales unexpectedly dropped by the most in nine years despite elevated consumer sentiment. Economists were quick to cast doubt on that month's report, highlighting strong signals from other data providers and quarterly earnings figures from retailers. Yet any sign of consumer deterioration in the GDP data doesn't bode well for what comes next.
"It looks like investment's kind of flat-lined, so we are even more dependent on the consumer," said Omair Sharif, senior U.S. economist at Societe Generale SA. "That's going to be the key. What retail sales do is not just give you a really bad end to the fourth quarter, but it suggests that the first quarter might start off on pretty soft footing as well."
Government outlays -- which picked up in the prior two quarters after Congress approved higher spending, particularly on defense -- likely helped growth again. But Sharif compares the boost last year from spending and tax cuts to a "sugar high" that will fade this year.
"Now we're settling back into the sort of expansion we've had for most of the business cycle," Sharif said.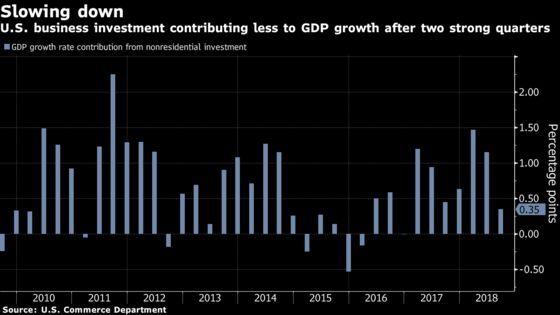 On the non-government side, it's a more downbeat picture: a proxy for business-equipment orders fell in December for the fourth time in five months, a sign that uncertainty over the U.S. trade war with China is weighing on investment.
In addition, factory output contracted in January after a downwardly revised December gain. And housing investment may have shrunk for the fourth consecutive quarter as sales and construction cool, though lower mortgage rates may be boosting demand in early 2019.
"There's no question that the prospects for the first quarter are much more important right now to the thinking in the markets and at the Federal Reserve as well, versus how the fourth quarter turned out," said Stephen Stanley, chief economist at Amherst Pierpont Securities LLC. "Expectations have got to be pretty muted for the first quarter at this point."