Monetary Policy Finally Gains Potency in Land of Negative Rates
(Bloomberg) -- In the country that's had negative rates for longer than anywhere else, monetary policy is finally becoming more effective now that ordinary consumers are being charged for their savings.
Denmark's banks, which have carried the burden of subzero policy rates for almost eight years, have until recently shielded retail customers.
But with the unorthodox policy now being applied to a larger chunk of the economy, "suddenly monetary policy becomes more potent," says Jens Naervig Pedersen, a senior analyst at Danske Bank, the country's largest lender.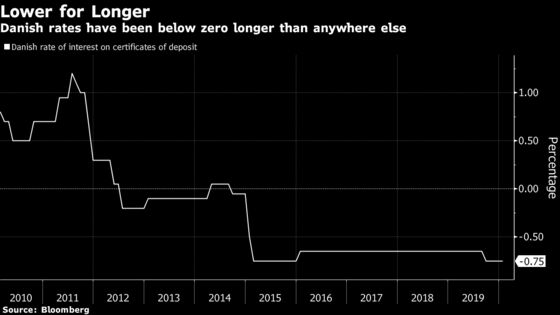 For years, the policy rates affected only institutional clients, financial corporations and non-financial companies, which make up roughly half of Denmark's 1.2 trillion-krone ($180 billion) deposit market, according to Danske's calculations. Now it will also be "working on the other half of the market," Pedersen said.
The Danish central bank, whose deposit rate is at a record low of minus 0.75%, uses monetary policy to protect the krone's peg to the euro. The negative rates that consumers now face paradoxically increase the likelihood of a rate increase, Pedersen said.
With bonds providing poor returns (the average yield on government bonds sold in 2019 was minus 0.33%), Danish savers who want to avoid charges are either forced to invest abroad or consume more. Either decision will weaken the value of the krone, thereby increasing the likelihood of a rate hike.
Danske is forecasting a rate increase of 10 basis points during the second half of the year, while analysts at Jyske Bank expect a similar hike already in the first half.
Denmark's central bank has had to walk a fine line between defending the peg and limiting the impact of its unorthodox policy on the banks. That has in turn reduced its effectiveness.
"In the good old days, the transmission of monetary policy was much faster," Pedersen said by phone from Copenhagen. "Next time will be different, because we will have all the benefits of hindsight."