Modi Sworn In as India's Leader Amid Pressing Economic Slowdown
(Bloomberg) -- India's Prime Minister Narendra Modi picked leaders with experience for key portfolios as he began a second five-year term facing an economic slowdown and global headwinds.
Amit Shah, Modi's right-hand man and president of his ruling Bharatiya Janata Party, has become the new home minister, while former defense minister Nirmala Sitharaman is the new finance and corporate affairs minister. Piyush Goyal has been assigned ministries of railways and commerce.
Modi has retained several members of his previous cabinet after receiving a resounding mandate in the country's election. The step looks to maintain continuity as well as tap the administrative skills gained in the previous term to tackle problems ranging from waning demand to weak investment flows.
Rajnath Singh, who was the home minister in Modi's first term, is now the defense minister and Nitin Gadkari has retained the ministry of road transport and highways, according to a press communique from president's secretariat. Dharmendra Pradhan has retained the ministry of petroleum, while getting additional charge of the steel ministry.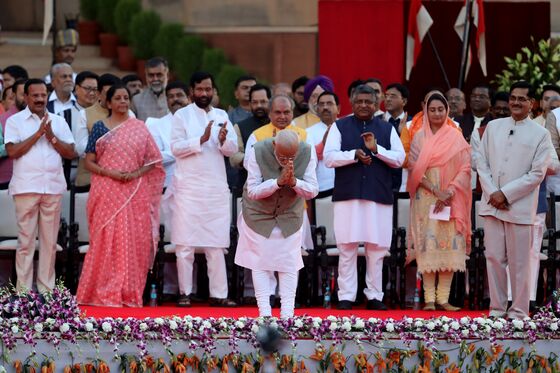 Modi was sworn in on Thursday evening alongside a slate of cabinet ministers. President Ram Nath Kovind presided over the ceremony in the forecourt of New Delhi's colonial-era presidential palace. It was one of the biggest-ever ceremonial events at the palace, and was attended by about 8,000 guests, including foreign dignitaries from neighboring countries, political leaders, business titans and celebrities.
S. Jaishankar, a long-time Indian diplomat who was appointed to the foreign ministry's top post during Modi's first term, was named foreign minister. Narendra Singh Tomar is now the country's minister for agriculture and farmer welfare.
Modi, 68, becomes the country's first premier to be re-elected with a majority since 1984. His Hindu nationalist BJP smashed exit poll predictions with a huge landslide victory. His BJP won 303 seats in the 543-member lower house of parliament, enough for a single-party majority.
Now, he and his team of 57 ministers face numerous economic challenges. They need to boost a slowing economy, fix the nation's ailing financial sector, generate millions of jobs for aspirational youth, reduce hardship among millions of impoverished farmers and continue pushing vast welfare programs for the poor. After his spectacular win, Modi pledged to build a "new India'' and some analysts expect him to skip reforms to focus on immediate measures to boost employment and expand welfare benefits.
"Modi's priority, at least in the short run, will likely continue to be on infrastructure development and spending measures for farmers, rather than on major business reforms,'' said Akhil Bery, South Asia analyst at risk consultancy Eurasia Group. Modi received his mandate after vowing to push forward on welfare programs, such as village electrification and basic sanitation, he added. "Now, it is incumbent on Modi to deliver.''
With 7% expansion in the year through March, India has held its crown as the world's fastest-growing major economy. But that's quickly changing this year as consumption -- which makes up 61% of India's gross domestic product -- weakens sharply, with ripple effects on new investments. He also has limited fiscal space to pay for promises like cash handouts to farmers and hundreds of billions of dollars in infrastructure spending.
On the political front, one question mark is how hard Modi and his party will push a pro-Hindu agenda, including politically sensitive moves such as scrapping Article 370 of the Indian Constitution, which grants special concessions to the disputed state of Jammu & Kashmir, or pushing to build a controversial Hindu temple on the site of a demolished mosque.