Mnuchin Says He's Hopeful of China Policy Change in 90-Day Truce
(Bloomberg) -- Treasury Secretary Steven Mnuchin said he's hopeful the temporary trade-war truce that President Donald Trump and China's Xi Jinping agreed to Saturday will lead to real changes in China's economic policies.
Trump agreed to postpone plans to raise tariffs on Jan. 1 to $200 billion of Chinese goods to 25 percent from 10 percent after trade talks with Xi on the sidelines of the G-20 summit. The White House gave a 90-day reprieve while the two sides bridge differences over American concerns about China's alleged theft of intellectual property and trade imbalances.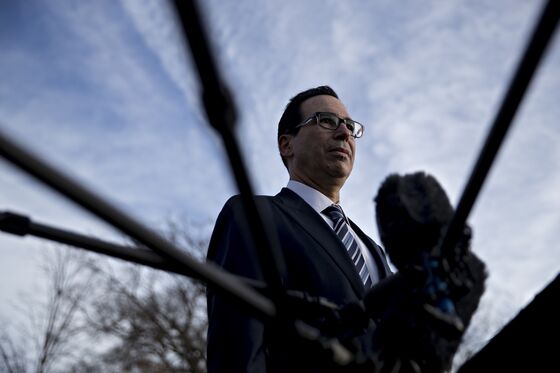 "This will be a real agreement," Mnuchin said in an interview on CNBC on Monday from Washington. "There was very specific understanding between President Trump and President Xi and now it's the team's job to turn this into a real agreement, that will have deliverables, dates and real commitments."
"This is the first time that we have a commitment from them that this will be a real agreement. There will be structural issues, there will be non-structural issues, there will be issues on intellectual property, technology, cyber, currency," said Mnuchin.
Divisions within the Trump administration over how tough to be on China were on display on Monday. White House trade adviser Peter Navarro, who has advocated a harder line against China including tariffs, told NPR that fellow hawk U.S. Trade Representative Robert Lighthizer would lead the 90-day talks. Mnuchin told CNBC that President Donald Trump would ultimately oversee the negotiations.
Lighthizer is "the toughest negotiator we've ever had at the USTR and he is going to go chapter and verse and get tariffs down, non-tariff barriers down and end all these structural practices that prevent market access," Navarro said.
The Saturday truce had boosted markets, and Trump jolted global auto stocks on Monday with a claim that China agreed to "reduce and remove" tariffs on imported American-made cars, raising more questions about the outcome of his meeting with Xi.
Trump gave no other details in his late-night tweet. In a briefing in Beijing a few hours later, China's foreign ministry spokesman Geng Shuang declined to comment on any car tariff changes.
Mnuchin told reporters outside the White House Monday that there is an "immediate focus on reducing auto tariffs" although there is still "significant work to be done over the next 90 days."